The global aluminium industry is sensitive to economic conditions, trade disputes, and supply-demand dynamics. In the seventh month of 2023, there was a noticeable increase in the price of aluminium on both the London Metal Exchange (LME) and the Shanghai Futures Exchange (SHFE). On the LME, the price rose within the range of USD$100, while on the SHFE, the increase was marginal. Despite the rise in both platforms, price fluctuations were observed during this period.
AL Circle's industry-focused report, Global Aluminium Industry Outlook 2023, revealed that in the later part of the year, the price of aluminium was forecasted to be better than in the initial part of 2023. The re-opening of the China economy was very much considered in the report. Furthermore, many companies around the globe have posted their H12023 and quarterly financial reports, but in most cases, a slowdown in revenue or a dip in profit has been revealed. The key highlights from the global aluminium industry for the month follow below: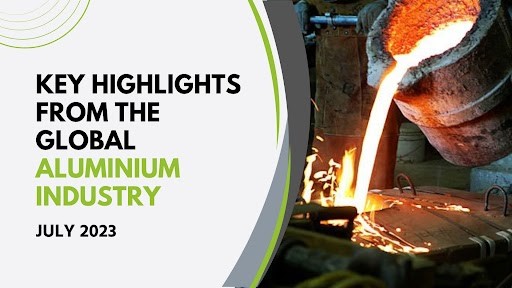 According to a report on Wednesday, July 12, Rio Tinto, an Anglo-Australian metals and mining group, will build a pilot hydrogen plant in Gladstone and retrofit an alumina refinery to replace natural gas use with clean hydrogen for the alumina refining process. It will be done with the help of Sumitomo Corporation, a leading Fortune 500 global trading and business investment company. The project is part of an A$111.1 million Yarwun Hydrogen Calcination Pilot Demonstration Program to reduce carbon emissions from alumina processing. Rio and Sumitomo will build a 2.5 MW on-site electrolyser to supply hydrogen to the Yarwun refinery in Gladstone, Queensland, and install modified equipment at one of Yarwun's four calciners to enable it to operate with a hydrogen burner.
To know more: https://www.alcircle.com/news/rio-tinto-to-build-hydrogen-plant-with-sumitomo-for-yarwun-alumina-refinery-aiming-to-curb-carbon-emissions-96539
The Plansee Group, based in Reutte, Austria, initiated an ambitious project. The project involves collaboration with Trimet, an aluminium manufacturer headquartered in Essen, Germany, as well as Arctus, a technology enterprise from Iceland, and Saarland University. The primary objective of this joint effort is to scale up a novel production method that eradicates the necessity of carbon in the aluminium manufacturing process. By replacing carbon dioxide with oxygen as a byproduct, this innovative approach significantly reduces the carbon footprint associated with aluminium production.
To know more: https://www.alcircle.com/news/plansee-technology-sets-ambitious-goal-of-achieving-carbon-free-aluminium-production-97577
On July 10, according to a report submitted to the Bucharest Stock Exchange, Alum Tulcea's shareholders approved the sale of Global Aluminium Ltd BVI, the subsidiary through which the company held ownership of the bauxite mines in Sierra Leone. However, Alum Tulcea is 99.4% owned by Romanian integrated aluminium company Alro. At the Annual General Meeting (AGM), Alum Tulcea, the sole shareholder, decided to divest by selling a certain number of shares, constituting the entire share capital of Global Aluminium Ltd BVI. The mandate was given to the Company's Board of Directors to negotiate and finalize the price and terms of the transaction.
To know more: https://www.alcircle.com/news/alum-tulcea-shareholders-greenlight-sale-of-global-aluminium-ltd-bvi-s-sierra-leone-bauxite-mines-96525
The Indian aluminium major, Hindalco Industries and the parent company of Novelis will commence full-scale alumina sales in Japan. With a dedicated Japanese corporation and warehouses at major ports, Hindalco aims to be among Japan's top three alumina suppliers. Hindalco plans to offer high-end and general-purpose products while emphasising its commitment to environmentally friendly practices.
To know more: https://www.alcircle.com/news/hindalco-industries-to-commence-full-scale-alumina-sales-in-japan-96499
Azerbaijan announced to invest in the reconstruction of the Tajik Aluminium Company (TALCO) smelter in Tajikistan. This plan was mutually agreed between Azerbaijan and Tajikistan during the sixth session of the Joint Intergovernmental Commission on Trade and Economic Cooperation, held in Baku. As agreed, Azerbaijan will play an active role in collecting capital for the construction of the Tajik Aluminium Company (TALCO) and exporting alumina to Tajikistan. In return, Azerbaijan will secure aluminium, cryolite, and aluminium fluoride from Tajikistan.
To know more: https://www.alcircle.com/news/azerbaijan-offers-capital-support-to-reconstruct-tajik-aluminium-company-s-smelter-96517
According to the letter sent to members, European Aluminium, the voice of the European aluminium industry, has considered actively lobbying for European Union sanctions on Russian aluminium but would oppose explicitly targeting the Russian aluminium giant Rusal. The group drafted an internal memorandum for planning purposes, lacking any knowledge regarding imminent sanctions from the European Union.
To know more: https://www.alcircle.com/news/european-aluminium-contemplates-eu-ban-on-russian-aluminium-excluding-rusal-97571
Dinsheng New Materials, China's largest aluminium foil, sheet and coil manufacturer with approximately 500,000 tonnes of capacity, is reportedly acquiring Italy's Slim Aluminium by spending EUR 56.3 million (US$61.2 million). The acquisition will include Slim's production plant in Italy as well as the one in Germany, which will enable Dinsheng to expand its battery aluminium foil business. The purchase of Slim Aluminium's two plants will add 135,000 tonnes of aluminium sheet and foil production capacity to Dinsheng.
To know more: https://www.alcircle.com/news/dinsheng-to-acquire-italy-s-slim-aluminium-for-us61-2-million-in-a-bid-to-expand-the-rolling-capacity-in-europe-96435
The German luxury automotive brand Mercedes-Benz's groundbreaking concept vehicle, the Vision EQXX, has ushered in an exciting future for solar electric vehicles (SEVs), promising an impressive leap forward in terms of innovation and appeal. The German automaker introduced the remarkable electric vehicle (EV) during the renowned Consumer Electronics Show in 2022, impressing everyone with its exceptional efficiency. This sleek and stylish EV has achieved remarkable feats since its unveiling.
To know more: https://www.alcircle.com/news/mercedes-benz-unveils-revolutionary-ev-with-an-impressive-1000-km-range-on-a-single-charge-boasting-aluminium-structure-97557

The increasing prevalence of electric vehicles has propelled Chinese automakers to surpass the 50 per cent mark in terms of cars sold in their domestic market this year. This surge in market share signifies their growing influence. AlixPartners, a renowned global consulting firm, made an insightful prediction that Chinese automakers would achieve a significant milestone by gaining a majority share of China's automobile market. This noteworthy development is particularly significant as China's car market is recognized as the largest in the world.
To know more: https://www.alcircle.com/news/chinese-automakers-poised-to-dominate-the-domestic-market-fuelling-surge-in-aluminium-demand-96478
The global mining and metal giant Rio Tinto and the Giampaolo Group, founded over 50 years ago in Toronto, Ontario, with a distinct focus on the recycling industry, have agreed to form a joint venture to manufacture and market recycled aluminium products. The transaction reflects the joint venture partners' commitment to meeting the increasing demand for low-carbon aluminium as a critical material in the energy transition. As per the agreement, Rio Tinto is set to purchase 50 per cent ownership of Giampaolo Group's wholly-owned Matalco business for $700 million, subject to standard closing adjustments.
To know more: https://www.alcircle.com/news/rio-tinto-to-acquire-50-stake-in-giampaolo-group-s-matalco-business-97637