What does the AlCircle's report

"Global Aluminium
Industry Outlook 2023"
offer to you?

The recently published industry focus report – "Global Aluminium Industry Outlook 2023", provides a comprehensive insight into the aluminium value chain market and shares an analytical forecast on how it will shape the year ahead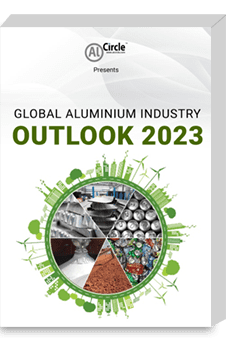 In a nutshell, the report offers:
Global Aluminium value chain outlook
Estimated production across the ecosystem
Price analysis & forecast, demand & supply, inventory
Trade overview
Key drivers and trendsetters
Top producing and supplying countries/companies
Development and investments
Usage across downstream and end-use sectors
The year 2023 looks positive in terms of worldwide aluminium demand, but high inflation and a continuous threat of recession are expected to act as a grinch, at least during H1, 2023.
The "Global Aluminium Industry Outlook 2023" report forecasts aluminium consumption to grow by 1.7 per cent over the year to stand at 96.9 million tonnes worldwide, primarily contributed by China. The year is expected to bear some unresolved issues from its predecessors, like geo-political issues and energy crisis, yet likely to continue witnessing carbon neutrality initiatives and revamping policies to achieve net-zero emission.
With the rising awareness of sustainability, recycled aluminium usage across the world is estimated to reach 28.3 million tonnes in 2023.
World aluminium consumption, 2021 to 2023 (million tonnes)