Aluminium, with its fantastic recycling properties, has caught the attention of many heavy industry manufacturers in recent years. The metal is widely used in automobile, aviation and construction industries, but that doesn't narrow its scope of venturing into other essential commodities or zones. The rising popularity has also caused critical mineral-intensive firms like Apple, Lenovo and Huawei to shift toward a greener pasture using aluminium in their commercially favoured products for reducing carbon emissions in the entire value chain, from production to recycling.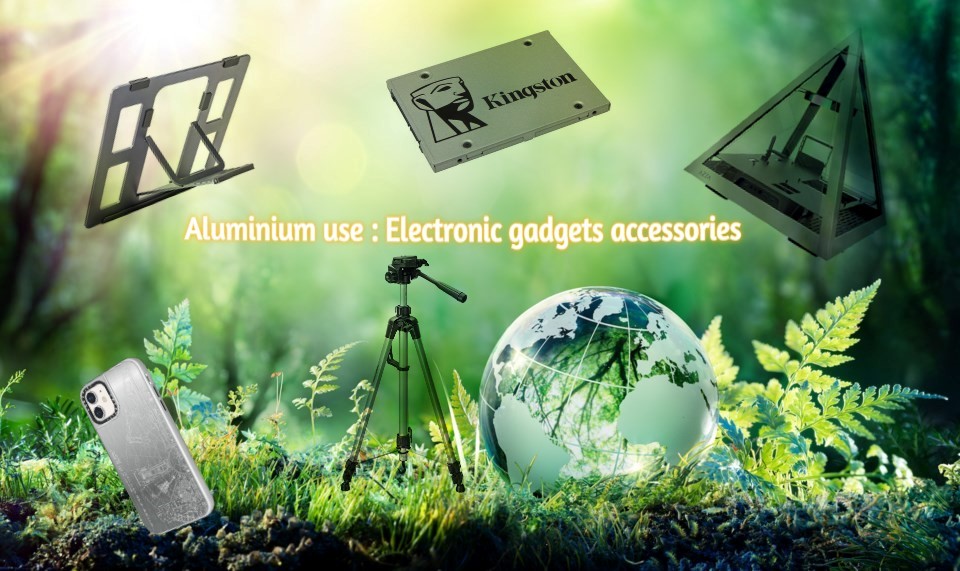 Instances of aluminium use:
Electronic gadgets
Laptop
Mobile
Keypads
Smart Watch
Smart Ring
Earphone
LED Light
Solar Panel
Electronic gadgets accessories
Laptop stand
CPU cover
SSD and SFF cases
Phone case
Tripod
The most important point about these electronic companies is that they might use a huge batch of raw material for production, but extracting the same from every tiny part of the product while recycling is a complicated task. That is why we mostly see that 100% recyclable aluminium is used for making cases or outer shells of electronic items. However, the accessories for your gadgets flaunt an untamed use of aluminium, as they can be recycled without being dismantled. Aluminium is lightweight and electronic accessories must be light, or else they would make any device unnecessarily heavy.
Some of the companies that have promoted the use of aluminium in their electronic accessories have been mentioned in the following paragraphs:
Laptop stands: Three new laptop stands from top tech brands must be mentioned. Lenovo's Z2 cooling bracket is made of sturdy aluminium alloy and features an open hollow structure that fits most notebook heat dissipation vents for better airflow and cooling. The Pad 360° foldable stand from Adam Elements is highly user-friendly and made of lightweight aluminium for easy angle and height adjustment. Finally, Portronics offers the 'My Buddy K6- Portable Laptop Stand,' a sleek and lightweight aluminium stand that adds to their expanding accessories portfolio. Portronics and Lenovo are primarily known for their high-quality electronic devices and now offer excellent auxiliary items for laptop users.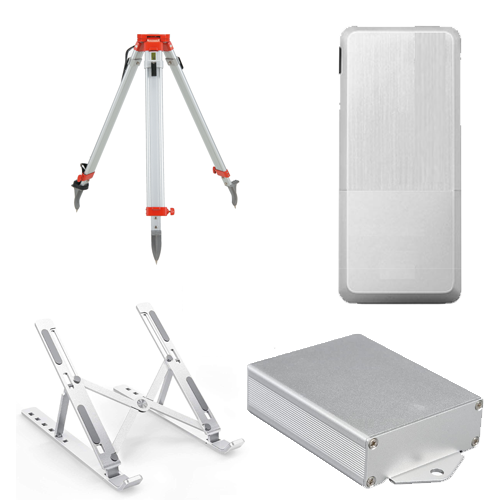 CPU covers: JONSBO has over a decade of experience in designing top-quality products with well-thought-out designs, premium materials, impeccable craftsmanship, and exceptional performance-price ratios. Their UMX6S series is a medium tower PC case made of aluminium-magnesium alloy and comes in Black and Silver "Window versions" with tempered glass panels, as well as a Silver solid panel model. Azza began as a motherboard manufacturer in 1996 but quickly expanded to produce the auxiliary components needed for CPUs. Their Pyramid 804 flagship product features an aluminium mesh screen instead of tempered glass, which allows for an uninterrupted airflow through the open pores of the mesh. This seemingly small change can significantly benefit the enclosure by keeping the CPU comparatively cooler and allowing ample space for customisation.
SSD and SFF cases: Kingston launched a new heatsink option for its FURY Renegade SSD storage devices that can be used for both console and PC gaming. The low-profile graphene aluminium heatsink is designed to fit into even the most minor areas of gaming laptops and PCs, providing improved performance while keeping the drive cool under heavy use. Kingston claims their products offer excellent consistency, resulting in an unparalleled gaming experience. For tech enthusiasts who like to pack powerful components into compact cases, DAN Cases has introduced their latest SFF case, C4-SFX. The case features a durable all-aluminium body crafted to the highest standards by Lian Li and is available in an anodised black or silver finish with airflow holes drilled into the side.
Phone cases: Did you know that in 2019, Rimowa launched a new line of iPhone cases modelled after their signature anodised aluminium luggage? Also, in honour of George Lucas, CASETiFY released a Star Wars Day N-1 Starfighter Collector's Edition Box Set and a series of aluminium-finished phone cases and tech accessories for the third season of The Mandalorian.
Tripod: If you're looking for a reliable tripod, check out the Vanguard VEO 3+ 303 tripods. Their multi-angle central column and sturdy 30mm legs are perfect for all your shooting needs.
This somehow proves how aluminium is taking over the entire technological industry while deepening its roots within the automobile, aeronautics and packaging sectors. Aluminium, a recyclable metal, is the most popular choice among raw material and energy-intensive industries to induce a circular economy.

If you are interested to learn more about the world of aluminium, do not forget to have a look at Alcircle's Outlook 2023 e-magazine.