The global aluminium industry has seen vast growth and is driving towards a sustainable future. It encompasses sourcing certified raw materials, transforming them through set industry standards, and the supply of finished products. The aluminium value chain has gone digital in recent years. Just as AL CircleBiz can be referred to as the world's first global online marketplace that connects millions of buyers and sellers across the entire aluminium value chain. However, there are many such things that came across and have been achieved for the very first time in the industry.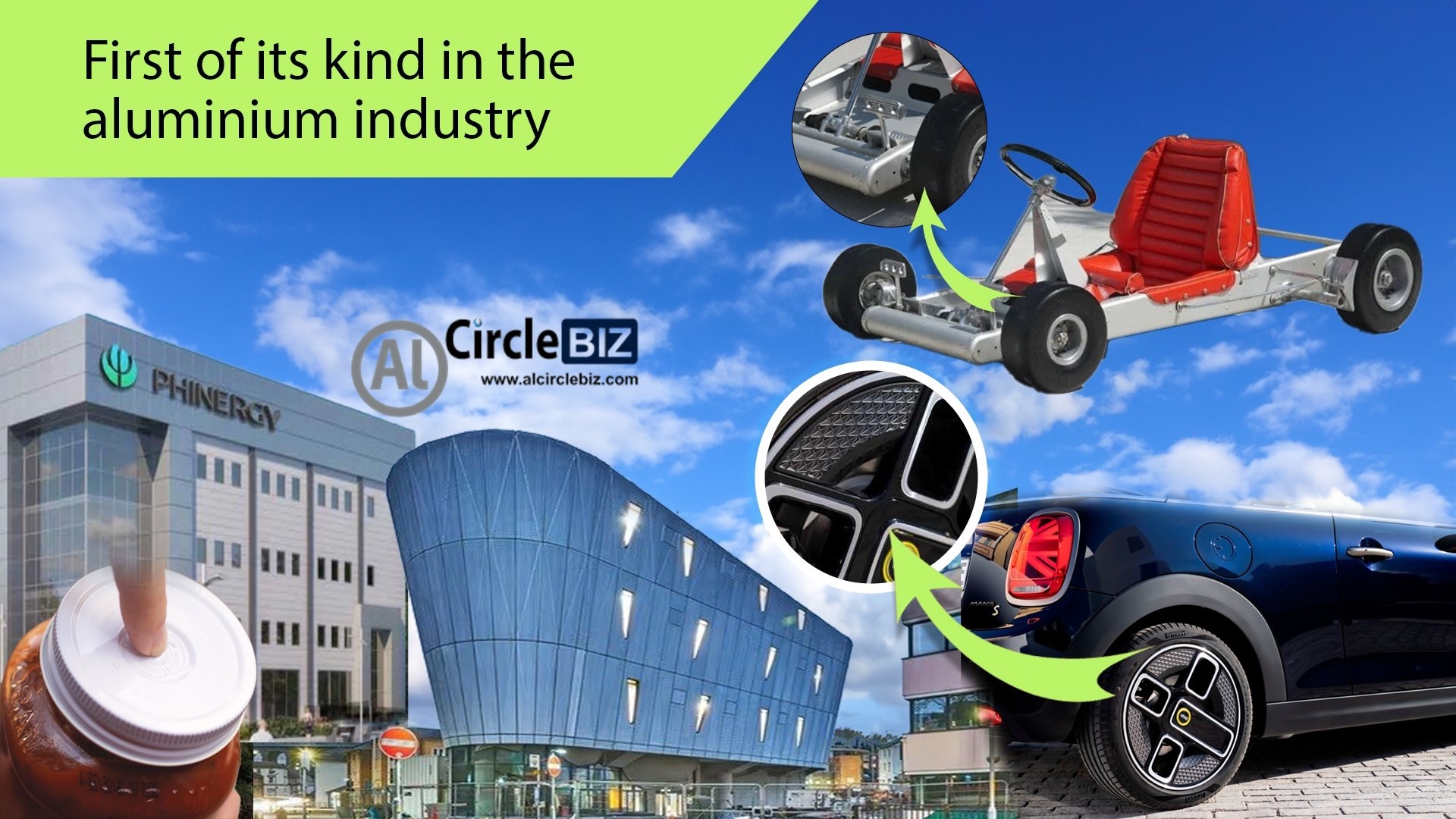 Some of the important first-time achievements in the aluminium industry are: 
Transportation sector: The BMW Group is leading the way in the circular economy with the world's first fully electric MINI Cooper SE Convertible. It has a combined power consumption of 17.2kWh/100 km, according to the 'Worldwide Harmonized Light Vehicles Test Procedure' (WLTP), and carbon emissions of 0 g/km. Additionally, it will be the first series model to feature alloy wheels made entirely from recycled aluminium. Ronal Group took the responsibility of producing the secondary aluminium wheels. 
Phinergy, an Israel-based company, has developed metal-air technology that can generate electricity by combining oxygen from the air with metals. They will be producing their first aluminium-air battery-powered Tata Tiago electric car in collaboration with Tata, one of India's largest car manufacturers, at the Auto Expo India 2023.
Shape Corp, a global provider of multi-material impact energy management and lightweight body structures for the automobile industry, has teamed up with Hydro, the global leader in aluminium production. This partnership marks Hydro's first time manufacturing automotive components using Hydro CIRCAL, which contains at least 75% post-consumer aluminium scrap, in the US market.
The BMW i7, an advanced all-electric model, will be available alongside the bold new 7 Series. The latest version of the BMW 7 Series has been redesigned in a modern and innovative way. It comes with a range of state-of-the-art features, marking a new chapter in the history of this iconic model that first debuted 45 years ago. The i7 uses environmentally responsible materials and has a range of up to 625 kilometres, thanks in part to the use of CelestiAL aluminium, produced by Emirates Global Aluminium using solar power. The new BMW 7 Series is available in the UAE as a conventional or battery-electric vehicle, with a focus on open technology and high levels of sophistication, comfort, and performance, all of which are hallmarks of the BMW brand.
The TrAM (Transport: Advanced and Modular) project created the Medstraum vessel, which is battery-powered and emits zero emissions. It is currently used for commuting in the Stavanger region of Norway and paves the way for eco-friendly fast ferries. The vessel was constructed using aluminium sourced from Hydro and is one of the first examples of such accomplishment.
Thok, in partnership with an aerospace company, recently developed a new aluminium prototype for their full suspension using a metal 3D printer. This marks a first for the industry. In 1961, Jim Rathmann Racing Products Inc in Dallas, Texas, developed a first-of-its-kind aluminium go-kart, Rathmann Xterminator. Jim Rathmann, a successful race car driver who won the Indianapolis 500, used a lightweight aluminium alloy frame, which was unique for its time.
Packaging sector: Last year, in May, Consumer Convenience Technologies (CCT) showcased their innovative EEASY Lid with an aluminium jar lid at the PLMA's "World of Private Label" trade show in Amsterdam on May 31-June 1. This lid can be easily opened by pressing a button, reducing the force required to twist off a lid by 58% for classic lug lids and 40% for continuous thread (CT) lids. This year we came across an announcement by the company wherein it declared introducing its flagship aluminium lids in the UK market. 
LSKB Aluminium Foils was established in 2018 and, for the first time, has introduced a unique product called Clean Wrap. This innovative 2-in-1 foil features one side of paper and the other of aluminium. Users can choose which side to use while wrapping their favourite foods based on preference and comfort. 
Construction sector: We saw some of the most enigmatic creations last year, and the construction industry has a bright future ahead if it incorporates much more aluminium into designs. Located in southern England, the F51 is the world's first multi-level skating zone made of timber ramps, undulating concrete, and street furniture that is shielded by aluminium. Despite its towering appearance, the building was originally intended to be a car park. However, it was repurposed as a new home for the local skating park, providing professional skaters with everything they needed, including skating bowls, pipes, ramps, and wall rides. The designers of F51 are based in Folkestone, Kent, and they have done an excellent job of creating a place that any skater would love.
Urban-Air Port, an aviation and aerospace manufacturing company, created Air One - the world's first "pop-up" urban airport. Located in Coventry, UK, this 17,000 square feet airport features a runway meant for electric flying cars and large drones. It also has charging portals installed for future electric vertical take-off and landing (EVTOL) aircraft. The airport is situated in the heart of Coventry and is made from aluminium and steel, which is wrapped in a tensile translucent fabric.
On a totally different scale, Orbex, a company dedicated to creating a circular economy, launched the world's first marketplace for internationally certified recycled metals trading. The company will prioritise the use and sourcing of globally authenticated recycled materials, creating a closed loop for the heavy industries. 

It is eminent how companies are investing ample time and effort to transform their flagship products into sustainable ones, and to do that; they are incorporating as much aluminium as they can since it is an infinitely recyclable metal. According to International Aluminium Institute (IAI), "almost 75 per cent of the 1.5 billion tonnes of aluminium ever produced is still in use today". Once the commercially viable companies start replacing their raw material with aluminium, it will serve as a harbinger for other associated companies. Aluminium giants like EGA and Hydro have also shown interest in forming low-carbon aluminium which is nothing but aluminium transformed from scrap. Low-carbon aluminium is beneficial for the ecosystem because, with every cycle, it cuts down the scope of excessive carbon emissions, inducing a circular economy.