Air One, the world's first "fully operational 'pop up' urban airport" designed by aviation and aerospace manufacturing company Urban-Air Port is ready to stage flights in Coventry, UK.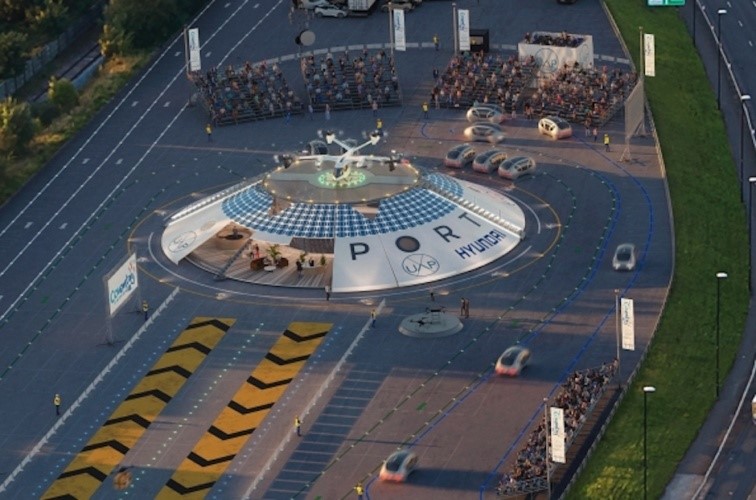 The 17,000 square feet airport consists of a runway for electric flying cars and large drones along with charging portals installed for future electric vertical take-off and landing (EVTOL) aircraft.
Located in the centre of Coventry in the West Midlands, Air One was constructed from aluminium and steel wrapped in a tensile translucent fabric.
The airport will be inaugurated this month on 25th April by launching the first cargo drone into the atmosphere while flying cars with passengers can't take off until 2025.
Founder and chief executive officer of Urban-Air Port, Ricky Sandhu told Denzeen Magazine:
"We wanted to create a multi-functional operations hub for manned and unmanned vehicles providing aircraft command and control, refuelling, cargo and passenger loading.
This new, green intermodal infrastructure will remove the largest, single constraint to sustainable air mobility and significantly cut congestion and air pollution from passenger and cargo transport and create a zero-emission ecosystem".
To top everything, the airport will be powered by a hydrogen fuel cell which denotes the company's inclination towards sustainability. 
"In Coventry, we are powering Air One from hydrogen fuel cells that will also power our fast EV chargers," Sandhu explained, "The EV chargers are for ground transport vehicles so we provide a seamless journey that is zero-emission."
A 14-metre Launchpad that is located on top of the dome-shaped prefabricated building would ensure the safe take-off of air-borne vehicles.
If a flying car or drone lands on the airstrip, the ground gives away to a hanger underneath where it can recharge and unload to be ready for its next flight.
This creation also named, Skyport or vertiport, has a 60% less carbon emission chance than traditional heliports. The decision to create a smaller airport was based on its central city location, according to Sandhu.
"In Coventry, we are in an ultra-dense location where almost half a million people work and live right next to the main train station in the city centre," added Sandhu.
"Our solution is compact but high capacity – that means we take up less space in the heart of a city where these electric vehicles can land and take off efficiently and quickly providing a new mode of sustainable transport and new connectivity."
Aluminium is one of the easily available lightweight materials used by Air One that can be easily recycled or replicated for constructing the Skyport as it envisions opening 200 more ports in cities all over the world in the coming five years.
This innovation will lead to the renovation of buildings into airports for flying buses or scooters. The world is not far away when we will revisit our Cartoon Network days of watching The Jetsons.
"The choice of building materials for the Air One is in line with Urban-Air Port's DNA and are based on rapid deploy-ability, flat-packed system, modularity and demount-ability," said Sandhu.
"This allows for a quick installation and dismantling processes and transportation to the next venue."
The launch of Air One notes the beginning of the burgeoning flying vehicle industry and shortly could reduce congestion and air pollution in cities, providing a solution to the growing climate crisis.
"Air taxis will certainly help remove some congestion and pollution of our streets but they are intended to be a complementary mode of transposition," he said.
"As urban populations grow year on year it's these new sustainable mobility solutions that we will need to help lighten the load and at the same time get us moving and the economy moving quicker," Sandhu concluded.

Contemporaries of Air One, Chinese electric vehicle manufacturer XPeng recently revealed a concept flying car and Slovakian company, Klein Vision has also talked about their AirCar which is a vehicle penetrating both land and air.
The technological race to develop flying cars has relentlessly activated companies to encourage the construction of skyports, with Uber auditioning architecture studios to create concept illustrations of skyports for ground-based or drone taxi fleets.