The Rathmann Xterminator go-kart was created in 1961 by Jim Rathmann Racing Products Inc in Dallas, Texas. Jim Rathmann, a successful race car driver who won the Indianapolis 500, developed the go-kart with a lightweight aluminium alloy frame, which was unique for its time.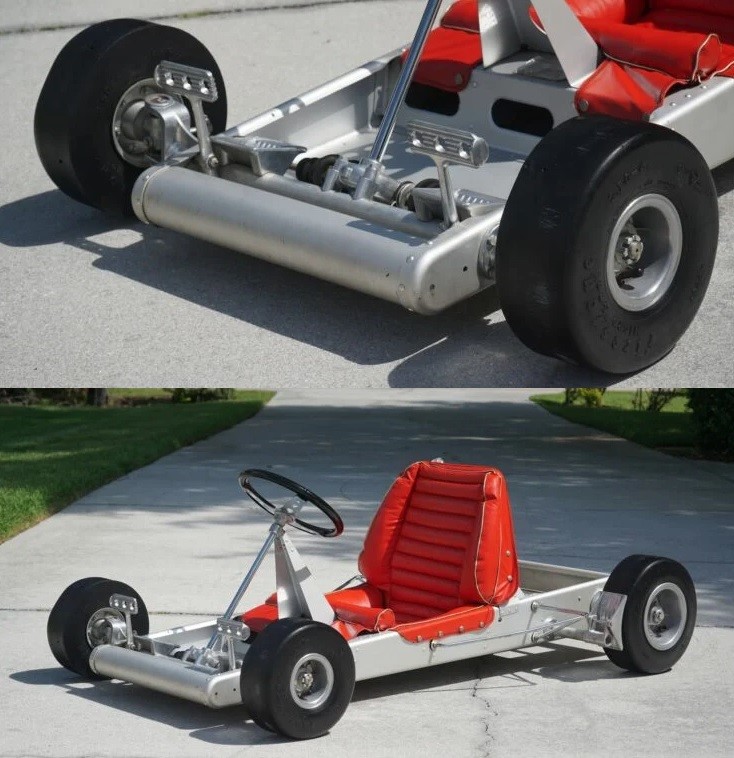 This frame was advantageous because it was lighter and less prone to corrosion than the more common tubular steel frame.
Jim Rathmann had a successful racing career, consistently placing in the top five positions at the Indianapolis 500 throughout the 1950s. In 1960, he won the Indianapolis 500 in a thrilling race against Rodger Ward, which solidified his legacy as one of the greatest racers of his time.
Jim Rathmann Racing Products Inc produced a series of advanced go-karts with duralumin aluminium alloy chassis, and one of them is now on display in the Smithsonian Museum.
The 1961 Rathmann Xterminator go-kart featured in this article is powered by an 87cc McCulloch MC-10 two-stroke single-cylinder engine with a Palmini exhaust. It has a single seat with red upholstery, a steering wheel, and pedals on either side of the steering column. The kart rides on Firestone bias-ply slick tires mounted on aluminium wheels and has dual rear scrub brakes.
Later in life, Jim Rathmann owned a Chevrolet-Cadillac dealership in Florida and became friends with astronauts Alan Shepard, Gus Grissom, and Gordon Cooper. He convinced General Motors (GM) President Ed Cole to establish a program that provided each astronaut with two new cars per year.

This program resulted in the Corvette becoming the car of choice for NASA astronauts, providing invaluable publicity for GM during the Apollo years.