The F51 is the first aluminium shielded multi-storied skating zone opened in the south of England. At first glance, no one can determine that the insides of the structure are made of timber ramps, undulating concrete and unwieldy street furniture.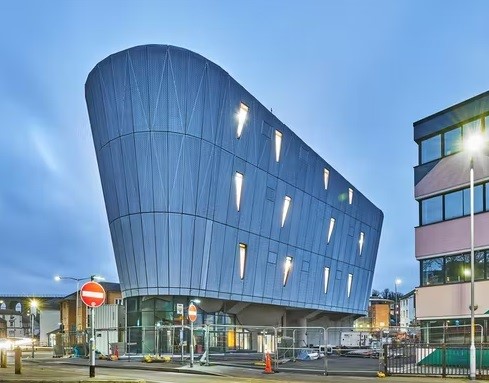 The F51 designers, hailing from Folkestone Kent, were primarily ordered to build a car parking space which is why the construction resulted in a towering structure. But when the local skating park needed a place for relocation, this building though a bit odd fitted the requirement list. It is the home to skating bowls, pipes, ramps and wall rides, everything that a professional skater would die for nowadays. 
The arena also consists of a 15-metre high climbing wall hosting more than 30 graded routes for beginners and pros equal.
The construction of the building has been completed keeping sustainability in mind. Moreover, aluminium gives the structure a unique, shiny and attractive look.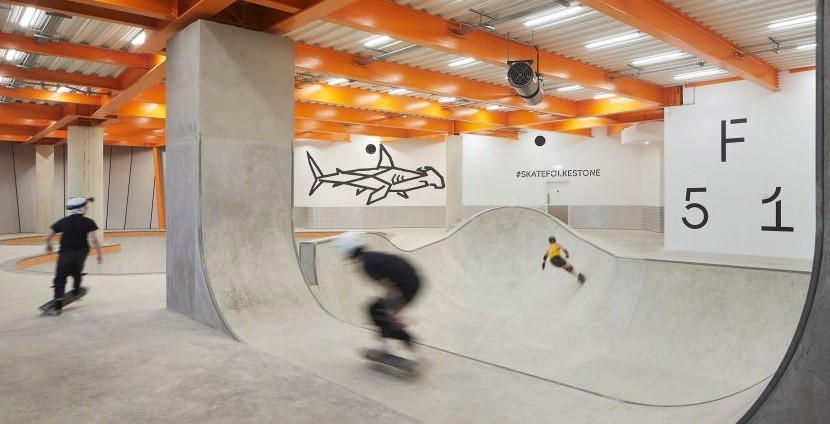 Skaters are pampered with various choices and a 'flow park' at the top of the building with a fantasyland filled with undulating mounds. After stepping down one level: steps, rails, and ledges can be found, essential for this particular recreational activity.
Skating first bloomed in empty Californian swimming pools, and the ground floor of this building also replicates those pools with swooping bowls and imposing pillars.

A local charity, The Sports Trust, runs a boxing gym and community space just below this entire unit. Their programmes include underage (16) membership registrations for £1 per month from schools nearby. The F51 also provides dummy sessions for visitors curious about skateboarding, boxing or climbing.