Aluminium is heavily used in the construction industry for its corrosion-resistant, lightweight and malleable properties. Moreover, aluminium is the second most abundant metal on the Earth's crust, making it easily available in huge quantities. Aluminium is 100% recyclable, so among the primary aluminium once produced, almost 75% is still in the material loop, inducing a circular economy. The metal is crucial in the construction and architectural industry because of its lightweight and tensile strength, which allows the formation of any desired shape or size. In the early 20th century, aluminium began to be used in the construction sector, and it quickly gained ample popularity because of its shiny attributes coupled with extreme endurance. Both features are highly regarded in the materialisation of aluminium doors, windows, facades and fenestration systems because their outlook appeals to the customers. After World War II, when the world began to walk towards modernisation, elements with higher recyclability began to be revered for industrial and residential construction purposes. In fact, the latest innovations, like extrusion procedures, were rampant in the manufacturing department after the technological shift happened in the 1970s. Also, the energy crisis of the 1970s urged industry leaders to transform their flagship operational lines and incorporate more and more recyclable metals.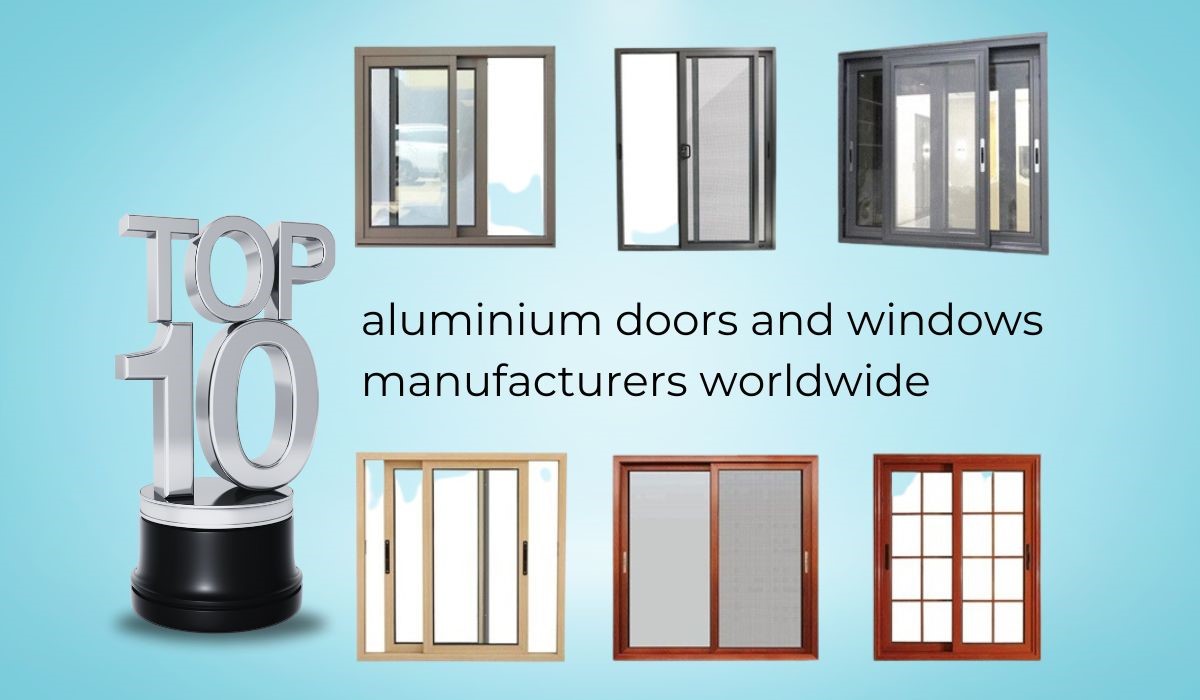 Aluminium extrusions and profiles are attached together to form a proper door or window system, while bespoke extrusions are required to create facades and fenestration solutions. Aluminium doors and windows have a better strength-to-weight ratio than the prevailing solutions in the market. Aluminium's malleability helps in creating intricate designs without compromising the structural integrity of the entire system. If we consider the sustainability aspect of the metal, there should be no reason for deliberation as recycling aluminium emits 95% less energy than the production of primary aluminium.
Here, it must be mentioned that aluminium doors and windows can be considered as cheaper alternatives to the usual wooden format. Plus, wood often has the risk of getting affected by termites and the weather, whereas aluminium is sturdy and can endure everything, from bugs to uneven weather conditions. Aluminium doors and windows are lighter than conventional doors and, therefore, have become a staple for the construction industry, where people look for the best within their allotted budget.
Below, you'll find aluminium door and window companies that are famous both in their home region and internationally for their exceptional quality and customer service:
Saint-Gobain: Hydro Building Systems and Saint-Gobain Glass have significantly reduced the carbon footprint of building facades. By combining their low-carbon solutions, the two companies have developed unique technology that enables them to reduce the embodied carbon levels of their products. Hydro Building Systems uses Hydro CIRCAL, a material with a high proportion of recycled post-consumer waste material, in its aluminium facade solutions. Saint-Gobain Glass produces low-carbon glass products that are made using power generated from renewable sources and include a significant amount of recycled material.
In August this year, news arrived that Saint Gobian India had plans to invest INR 8,000 crore over the next four to five years in the subcontinent. The investment will boost capital expenditure and simplify the process of future acquisitions. B Santhanam, the CEO of Asia Pacific, made this announcement.
PurOptima: PurOptima, Optima's New York-based counterpart, has announced that it will use Norsk Hydro's Circal for its glass and aluminium wall partitions and doors, which will now be made entirely from aluminium with recycled content. Hydro, which is one of the world's largest aluminium recyclers, has designated PurOptima as an international maker and supplier of indoor glass and aluminium partitions or doors.
Hydro is enthusiastic about the new partnership, as its flagship Circal is made up of more than 75% recycled post-consumer scrap, making it the most highly recycled aluminium available today. According to Hydro, the origin of Hydro Circal can be traced indefinitely, and the product is certified by an independent third party. Hydro uses advanced aluminium sorting technology to reclaim, clean, and sort end-of-life materials so that only the finest scrap metals are reintroduced into circulation.
Capral: Capral Aluminium Industrial Solutions, the leading aluminium products producer and distributor in Australia has recently received dual ASI certification for manufacturing extruded products. This certification marks a significant achievement for Capral, as they are now the first extruded aluminium product manufacturer in Australia to receive such recognition. Notably, Anthony Karlovic, the founder of First Avenue Homes, has selected Capral Aluminium doors and windows for their latest project located in Melbourne's Brighton East area. The prestigious home has been recognised with numerous accolades, including the HIA Custom Home of the Year in the $750,000-$1 million category and the HIA Victorian Kitchen of the Year.
Reynaers Aluminium: LX Hausys and Reynaers Aluminium entered into a partnership to help the latter penetrate the domestic aluminium window market in Korea. The companies will share their operational expertise and manufacturing abilities to produce high-end aluminium window modules that can withstand uneven weather conditions. The partnership is expected to result in the production of high-quality, durable, and innovative aluminium windows catering to the needs of the domestic market. The signing of the Memorandum of Understanding (MoU) was held at LX Hausys' headquarters in Seoul on March 29.
Reynears Aluminium has completed a large factory in Żabia Wola near Warsaw. The facility includes a 31,000-square-meter production hall and 1,200 square meters of office space. The new production facility has already been put to use and has achieved BREEAM certification at the Excellent level. The office space was designed with employee comfort in mind, with acoustics, air quality, and access to daylight. The facility also includes over 37,200 square meters of green space.
Reynaers Aluminium UK has increased its warehouse space to 95,000 Sq. Ft., allowing for a 40% increase in stock for its ConceptWall 50 curtain wall system. The system offers unlimited design freedom, exceptional performance, and high-specification resilience. It is highly insulated and can achieve Passive House levels of thermal performance. Reynaers' Technical Director highlights that the system can help mid-sized projects remain on track by offering a versatile solution that can be delivered quickly.
Fenplast: Fenplast, a Candiac-based manufacturer of aluminium doors and windows, has made a strategic acquisition of Ramp-Art, a leading windows and doors maker headquartered in Terrebonne, Quebec. This acquisition was made through Fenplast's Altek subsidiary, ADG. While the financial details of the acquisition were not disclosed, it is believed to be a significant investment as it will enable Fenplast to expand its reach and capabilities in the industry. In addition, Fenplast recently acquired ADG doors and windows in Terrebonne through its subsidiary brand Altek Windows and Doors and purchased a minor stake in Solarcom, a Beauceville-based manufacturer of aluminium windows.
Frame Fast: A company called Frame Fast, located in Derby, specialises in manufacturing aluminium doors and windows. They are investing in a new site that covers 10,000 sq ft, which will help them expand their business in the East Midlands and eventually on a global scale. This new facility will serve as a primary production zone for its flagship aluminium doors, windows, and roof. In addition, Frame Fast is also a well-known glass fabricator with a high-tech unit that utilises advanced technology to meet the rising demand for their aluminium products. Leivers, the manager at Frame Fast, has expressed the company's desire to give back to the community that has been their base of operations for the past thirty years. This includes creating new job opportunities and hosting social events to engage with the locals. They also plan to employ young individuals who are looking to start their careers in the industry. All of Frame Fast's endeavours are aligned with their sustainable development goals, with the goal of benefiting the East Midlands region.
Fenesta: In 2020, DCM Shriram's subsidiary Fenesta expressed interest in building an INR 25 crore aluminium window and door plant in Bhiwadi, Rajasthan. The conglomerate seeks to expand its market share and product portfolio by entering the aluminium windows and doors business after establishing itself in the uPVC windows and doors industry in 2002 through Fenesta Building Systems. Fenesta has recently opened a retail outlet, Faiz Enterprises, in Anantnag, Kashmir, strategically located at KP Road, Khanabal. The outlet aims to provide customers in Kashmir with advanced solutions such as state-of-the-art uPVC windows and doors, aluminium windows and doors, and designer doors.
Senior Architectural Systems: Senior Architectural Systems has achieved a significant milestone with the inauguration of a new manufacturing facility in South Yorkshire, which has doubled its production capacity. The company's exceptional range of accomplishments was recognised this year with the coveted King's Award. Senior's unwavering commitment to manufacturing top-quality aluminium curtain wall systems, doors, and windows has paid dividends with the introduction of a new thermal improvement facility in Rotherham. This new facility has not only doubled the production levels of Senior's patented PURe range of low U-value aluminium doors and windows but has also contributed to a reduction in lead times.
Senior Architectural Systems, one of the UK's most reputable private firms specialising in aluminium fenestration solutions, announced the availability of a new RIBA-approved Continuous Personal Development (CPD) seminar that highlights the "Evolution of Thermally Broken Window Profiles." The CPD seminar is designed to educate architects and interior designers on the use of thermally efficient window systems to meet the new lower U-value protocols specified by Part L of the Building Regulations.
Alumex: Alumex PLC, which is part of the Hayleys Group and is known for producing top-quality aluminium profiles, has committed to expanding its value-added services to solidify its position as a leading exporter in the industry. After receiving recognition from several prestigious award-giving organisations in 2022, Alumex PLC has set out to significantly impact the global and regional markets. The manufacturer of aluminium profiles is now introducing its patented do-it-yourself (DIY) solutions for the domestic market. The new DIY series covers a wide range of the company's newly launched products, which are primarily intended for residential use. Alumex has made significant investments in upgrading its state-of-the-art melting plant in Sapugaskanda to continue contributing to the construction industry with its low-carbon aluminium range, Re_Al and Ozon.
Also, Alumex PLC, the leading aluminium manufacturer in Sri Lanka, successfully concluded a program for its Lumin Certified Fabricators Club. This exclusive community recognises the most skilled and certified fabricators for Lumin products. Since 1986, Alumex has been committed to supporting the local fabricator community. They have revolutionised the aluminium sector and won the trust of thousands of customers with their luxury brand, Lumin. The Lumin Certified Fabricators Club ensures the availability of well-trained and well-equipped fabricators, providing customers with unmatched service and craftsmanship.

Technal: Technal, a leading provider of aluminium building systems for doors, windows, and facades and a subsidiary of Norsk Hydro, the Norwegian aluminium and renewable energy giant, has introduced its 'Hydro CIRCAL' product line in Saudi Arabia. Technal is renowned for supplying sustainable aluminium solutions that guarantee energy efficiency and environmental friendliness, with high-performance outcomes for windows, doors, and facades. The company has been operating in Saudi Arabia for over 44 years and is now expanding its presence in the region with the opening of its headquarters in Riyadh. Technal's newly launched headquarters will improve the company's ability to deliver top-quality products and services to its clients in Saudi Arabia, including architects, consultants, contractors, and developers. As a subsidiary of Hydro Extruded Solutions, Technal employs nearly 32,000 workers in over 140 locations across 40 countries globally. The company has been providing the Saudi Arabian market with state-of-the-art low-carbon aluminium solutions for over four decades. 
The companies mentioned above have not been ranked in any particular order, but it is safe to say that all these brands have built their unique service protocol and a profound business paradigm all around the globe. All the brands have integrated logistical services that ensure the safe delivery of products. In a recent advancement, it was seen that Capral is working hard to turn its aluminium extrusion carriage services green. If you are interested in learning more about the use of aluminium in the architectural genre, please have a look at AL Circle's specially curated e-Magazine, Aluminium-Revolutionising the Construction Sector.