Subaru of America, Inc. and the Philadelphia Union have achieved a remarkable feat by transforming Subaru Park in Chester, PA, into a "zero landfill status" stadium. To mark this incredible milestone, they collaborated with TerraCycle, a renowned recycling company based in Trenton, NJ, to create a soccer ball sculpture using recycled items like aluminium cans and bottles found exclusively at Subaru Park.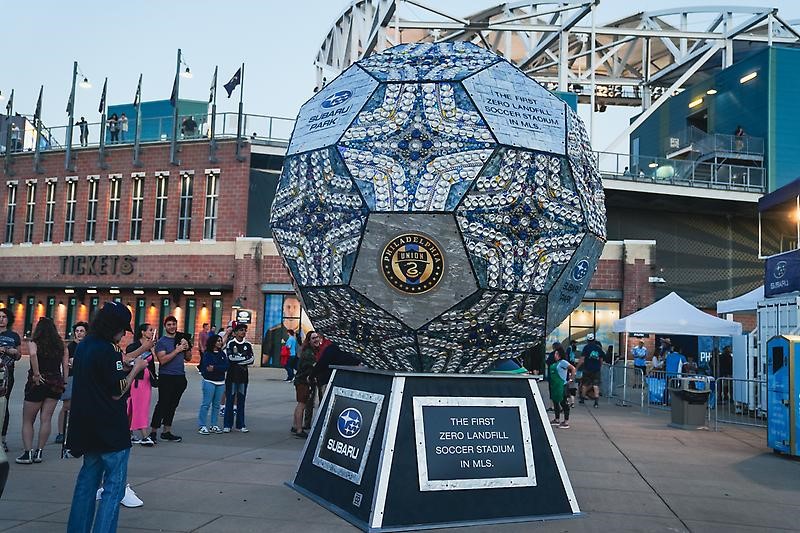 The sculpture was unveiled outside the stadium amidst the cheers of passionate supporters from the Philadelphia Union's Sons of Ben group. The sculpture is an embodiment of the shared commitment to sustainability between the partners. Designed and crafted by TerraCycle's in-house team specializing in upcycling, it features a wide range of recycled materials, including aluminium cans, tabs, plastic soda bottles and caps, and repurposed elements from a large billboard.
The Senior Vice President of Marketing at Subaru, America, Alan Bethke, announced: "We're proud of our sustainable legacy and all we've accomplished since becoming the first automaker with a zero landfill factory in the United States."
"We're also proud of the recycling milestones we've achieved throughout our partnership with the Philadelphia Union, and we hope this incredible new sculpture will show visitors to Subaru Park just how beautiful recycling can be," Alan added.
The sculpture is a symbol of both organizations' passion for the planet and the beautiful game. Terracycle operates by partnering with various companies, retailers, and manufacturers to create recycling programs for specific types of waste. This approach aims to reduce the environmental impact of waste that would otherwise end up in landfills or incinerators.
By creating targeted recycling solutions for a wide range of materials, TerraCycle contributes to a more sustainable and circular economy. In addition to its recycling programs, TerraCycle is known for its innovative partnerships with brands to create consumer products from recycled materials, promoting a closed-loop system in which waste is repurposed into new products. This partnership between Subaru of America, Inc., the Philadelphia Union, and Terracycle highlights the power of collaboration and innovation in creating a more sustainable future for all.
If the recycled aluminium sector is your area of interest, please have a look at AL Circle's specially formulated industry report, World Recycled Aluminium Market Analysis.