Ankur Chawla's sustainable vision came into the foreground of India's first-ever G20 summit in Delhi as Responsible Whatr, an Indian eco-conscious startup, helped keep the international and national delegates hydrated with its premium quality natural spring water packed in aluminium cans made with 70% recycled aluminium.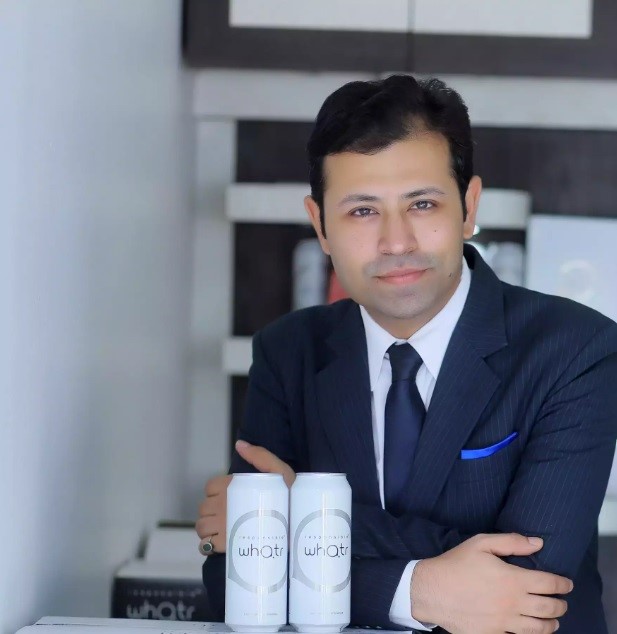 Responsible Whatr has left its mark in the beverage industry with its natural spring water packaged in eco-friendly 100% recyclable aluminium cans. The brand recently announced its use of these cans at the G20 Summit, where it provided hydration solutions to world leaders and delegates attending the event. This partnership not only emphasised the brand's commitment to promoting sustainable practices but also showcased its innovative and eco-friendly products on a global platform.
Responsible Whatr has achieved a remarkable milestone of selling over one million aluminium cans through both online and offline distribution channels. This achievement is a testament to the brand's successful adoption of sustainable practices by diverting the use of plastic bottles. The company sources its water from a pristine spring aquifer in the Himalayas, which provides naturally balanced essential minerals and a pH of around 7.4.
Launched during the pandemic, Responsible Whatr has seen soaring demand for its environmentally sustainable products. The brand plans to expand its presence in several new states, including Gujarat, Tamil Nadu, Uttarakhand, Rajasthan, Punjab, and Goa, in the next quarter. This expansion will create job opportunities and support the local economy in Solan, Himachal Pradesh, where the brand is located.
Despite the challenging circumstances, Responsible Whatr has remained steadfast in its commitment to sustainable practices and aggressive marketing. The brand sold 50,000 cans within just 70 days of its product launch, showcasing resilience and adaptability in the face of adversity. Its products are evenly distributed across retail, online, and HoReCa channels, with a strong online presence spanning across India and a physical presence in Delhi NCR, Maharashtra, Kolkata, Hyderabad, and Himachal Pradesh.
The founder and CEO of Responsible Whatr, Ankur Chawla, asserted through a statement: "The decision to use aluminium for packaging was a natural choice, as it avoids contributing to landfills and is infinitely recyclable, unlike glass and plastic, which are typically downcycled. In fact, the cans currently in circulation are crafted from 70 per cent recycled aluminium. Furthermore, aluminium cans maintain the water's freshness even when exposed to light or heat, ensuring that consumers enjoy a consistently refreshing and cold beverage."
The Co-founder of Responsible Whatr, Bhrigu Seth, exclaimed: "Responsible Whatr remains committed to its mission of promoting sustainability and environmental responsibility through its premium natural spring water product. As the brand expands its presence to new regions in India, we anticipate continued success and a growing impact on reducing single-use plastics while delivering a refreshing and environmentally conscious beverage option to consumers."

Responsible Whatr is physically available in six states across India and has a strong online presence, with direct online orders through the website contributing significantly to its growing sales figures. The brand's products can be found in prominent establishments like ITC Hotels, Taj Palace, JW Marriot, The Lodhi, The Leela, Holiday Inn, Kampai, Sidecar, My Tea Chapel, The Quorum Club, Meta offices (Facebook), Greener, and many more.