The L'Epee clock is designed in aluminium to resemble a grenade, specifically the MKII. Although it may seem strange for a clock to be inspired by a weapon, its unique design is intended to challenge the significance of time and encourage people to enjoy the present moment.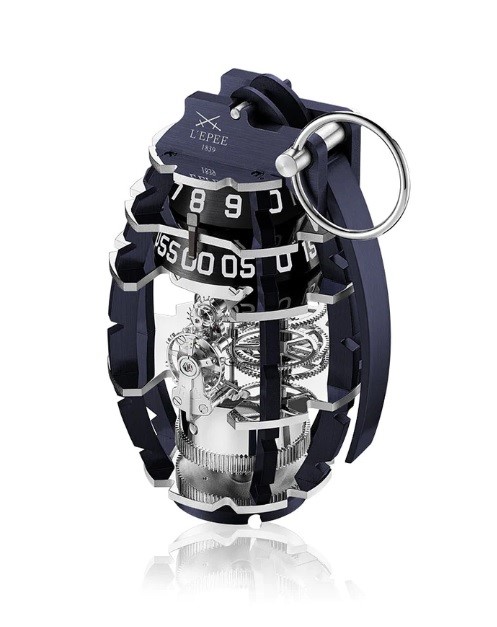 However, the clock's technical details should not be overlooked. The clock's aluminium structure houses the display and movement, with the time flashing on two black aluminium disks.
The aluminium disks are powered by an in-house movement made of palladium-plated brass and stainless steel, lasting up to eight days without winding.
To set the time, you must pull the pin at the top of the clock and wind its mainspring. Although not as explosive as an actual grenade, pulling the pin reminds users to live in the moment.
On the other hand, aluminium use symbolises vitality and regeneration as the non-ferrous metal is infinitely recyclable, keeping the sustainability quotient of an end-user product intact. The shiny outside case has a galactic glow which can attract wise eyes.
Alex Moss, a jeweller with celebrity clients such as Drake and Tyler the Creator, has covered the clock with 2,144 rare diamonds of 34.27 carats, making it an exclusive version. Although it doesn't have the same range of colours as previous editions, it is undoubtedly the most eye-catching.

One must visit the firm's official website to reserve a limited-edition L'Epee clock, priced at almost $149,000. This puts it in the same price range as a diamond necklace that Moss made for Drake, which featured 42 large diamonds that supposedly represented all the times the rapper considered proposing.