Global bauxite production is estimated to reach 393 million tonnes in 2023, a growth trajectory expected to continue in the following years, according to AlCircle's latest industry-focused report, 'Global Aluminium Industry Outlook 2023'. As a result, there will be a 2.6 per cent increase over 2022, primarily driven by the two largest bauxite producers in the world, viz. Australia and Guinea. Investing in capacity and ramping up production will drive this increase. Companies have taken up the goal of achieving carbon neutrality for operations as part of their sustainable efforts to maintain the environmental balance.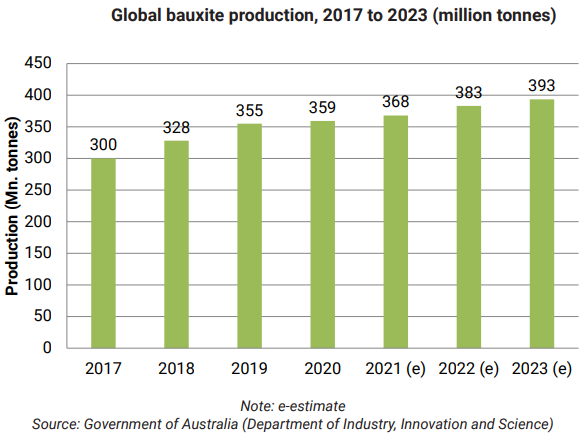 The 'Global Aluminium Industry Outlook 2023' also revealed that in 2022, global bauxite production increased by around 4.1 per cent, compared to a growth of 2.4 per cent in 2021. The global bauxite production was estimated at 383 million tonnes in 2022. However, the rise in global bauxite supply is attributed to the increased production level from Australia and Guinea.
The Western African bauxite kingdom, Guinea, recorded a y-o-y growth over 2021, with a 10 per cent increase in bauxite production.
Australia continues to be the top bauxite producer in the world, with a production of around 104.8 million tonnes in 2022-23, a growth of 2.4 per cent from the 2021-22 production level of 102.4 million tonnes.

Guinea's bauxite production for 2022 is around 96 million tonnes, a growth of 10 per cent from 2021. China continues to rely heavily on the import of bauxite from Guinea, Australia and Indonesia. In 2023, world bauxite production is expected to grow to 393 million tonnes.
AlCircle published this exclusive report to deliver an in-depth understanding of all the segments of the global aluminium value chain's Outlook for 2023. To get your copy, click here.