Emirates Global Aluminium, a leading industrial company in the UAE besides oil and gas, has signed a memorandum of understanding with BP. The purpose is to explore potential projects and opportunities that could decrease the carbon intensity of EGA's calcined petroleum coke supply.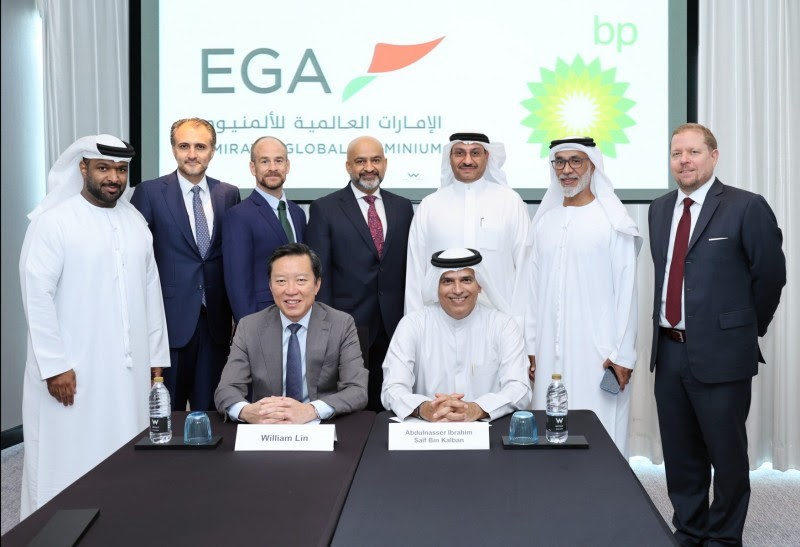 This non-binding and non-exclusive agreement was exchanged in Abu Dhabi between Abdulnasser Bin Kalban, EGA's CEO, and William Lin, bp's Executive Vice President of Regions, Corporates & Solutions.
Calcined petroleum coke is turned into carbon anodes that are used in reduction cells during the aluminium smelting process. EGA uses approximately one million tonnes of calcined petroleum coke per year. EGA imports most of it, while up to 40% comes from ADNOC. BP has been supplying EGA with calcined petroleum coke since 2012.
The collaboration between EGA and bp aims to explore ways to decrease the carbon intensity of EGA's total supply of calcined petroleum coke. This includes its production and shipping. The partnership could lead to the creation of a blending facility for calcined petroleum coke in the UAE.
This facility would help optimize the emissions and quality of calcined petroleum coke from various suppliers. If it is developed, this new industrial investment in the UAE will contribute to the country's Operation 300bn industrial development strategy.

The Chief Executive Officer of EGA, Abdulnasser Bin Kalban, quoted: "While our industry must achieve a step-change in greenhouse gas emissions in the coming decades, it is important that we also continue to focus on the incremental improvements that are in reach today. Through this cooperation with bp, we are targeting reductions in the greenhouse gas emission intensity of these important processes in our raw material supply chain."