Reusable aluminium cups from War on Single-Use Plastic (WOSUP) will be tested at the Wallabies vs Argentina rugby union test match at Sydney's CommBank Stadium on July 15th.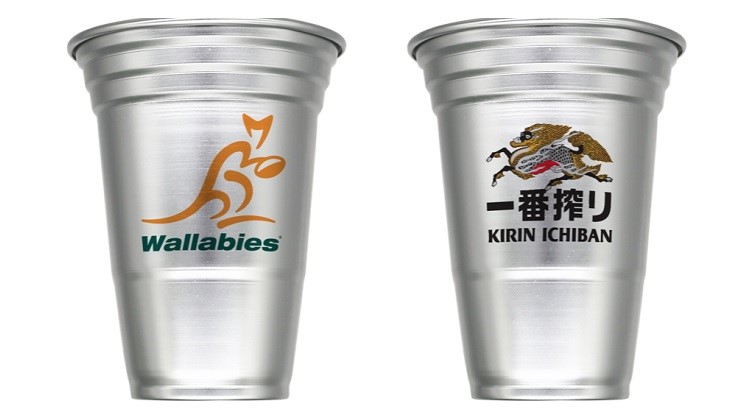 Instead of single-use plastic, 20,000 WOSUP cups will be used during the match, eliminating approximately 220kg of plastic waste and offsetting 60,000kg CO₂-e, which is equivalent to planting 95 trees through WOSUP's partnership with Greenfleet, Australia's first carbon offset provider. The aluminium cup initiator has a tree planting collaboration with Greenfleet, which offers a net carbon reduction of 3kg CO₂-e peruse.
This trial is the first step in testing the feasibility of using and returning WOSUP's reusable aluminium cups by rugby fans. WOSUP aims to establish a long-term, sustainable partnership with Rugby Australia. The reusable aluminium cups will be co-branded with Hearts in Rugby Union's logo, a charity that supports rugby players with life-altering injuries.
WOSUP will cover all printing costs as part of its support for the charity, and its Rewards loyalty program will be integrated into the cups via a QR code, providing valuable information, attractive offers, competitions, and money-can't-buy experiences.
Illustrating his views on the trial, the Chief Executive of WOSUP, Martin Salter, stated: "We are extremely excited that a progressive sporting code such as Rugby Australia has taken the lead to make a stand and trial a ban on single-use plastic cups at their international against Argentina this year."
"WOSUP's cups are a climate game changer. In the war on single-use plastic, our solution comes down to one simple truth: prevention is the best cure for plastic pollution choking our planet. Our reusable and infinitely recyclable aluminium cups are purposely designed for use at large-scale sports and entertainment venues, where the biggest impact can be made in tackling throwaway culture globally," he added.
Martin then praised the non-ferrous metal: "Aluminium is the building block of a circular economy. It is recognised as the most sustainable and abundant metal in the world and the most recycled material on Earth. While only 9% of all plastic ever made has been recycled, 75% of all aluminium produced remains in use."
The Chief Executive of Rugby Australia, Andy Marinos, commented: "Rugby Australia is proud to partner with WOSUP for this significant trial of reusable aluminium cups during the highly anticipated Australia vs Argentina rugby union test match."

"This initiative aligns with our commitment to sustainability and demonstrates our dedication to reducing single-use plastic waste. We are excited to be at the forefront of driving positive change in the sporting industry and look forward to seeing the sustainable results that can be achieved with WOSUP's innovative cups," he assured.