The United States crude and dried bauxite imports recorded a leap of 58.66 per cent on a quarter-on-quarter basis in the second quarter of 2023 to stand at 733,000 tonnes, found the US Census Bureau survey. With this jump, the country's bauxite import volume recovered the loss by a large extent, which it faced in the previous quarter.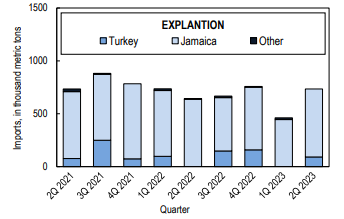 According to USGS, the United States' crude and dried bauxite imports in Q1 2023 fell sharply by 38.97 per cent to 462,000 tonnes from 757,000 tonnes in Q4 2022.
On a year-on-year basis, the United States crude and dried bauxite imports in Q2 2023 grew by 13.82 per cent from 644,000 tonnes. But despite the annual and quarterly hike in the United States' Q2 bauxite imports, the total import volume in the first six months of 2023 stood 13.04 per cent lower at 1.2 million tonnes compared to 1.38 million tonnes a year ago.
Jamaica remained the biggest supplier of bauxite to the United States in Q2 2023, providing 642,000 tonnes, up by 44.27 per cent Q-o-Q from 445,000 tonnes and 1 per cent Y-o-Y higher than 637,000 tonnes. However, in H1 2023, Jamaica's total crude and dried bauxite exports to the United States recorded a fall Y-o-Y from 1.26 million tonnes to 1.09 million tonnes.
The fall in Jamaica's bauxite exports to the US in the first half of 2023 was due to the decline in Q1 by 25 per cent Q-o-Q and 28 per cent Y-o-Y to 445,000 tonnes.

Turkey, the second-highest bauxite exporter to the US, re-started exporting in the second quarter. In Q2, Turkey's export volume to the US stood at 91,700 tonnes.
The United States' bauxite imports as of H1 2023 are more than halfway to match the import volume in 2022. Annual growth in the United States bauxite imports in 2023 is only possible if the uptrend continues in Q3 and Q4.