China-based UA Packaging has replaced plastic with aluminium to create its latest luxurious ALU Airless jar. This is a commendable addition to the company's aluminium packaging profile which mainly aims at serving luxury skincare brands.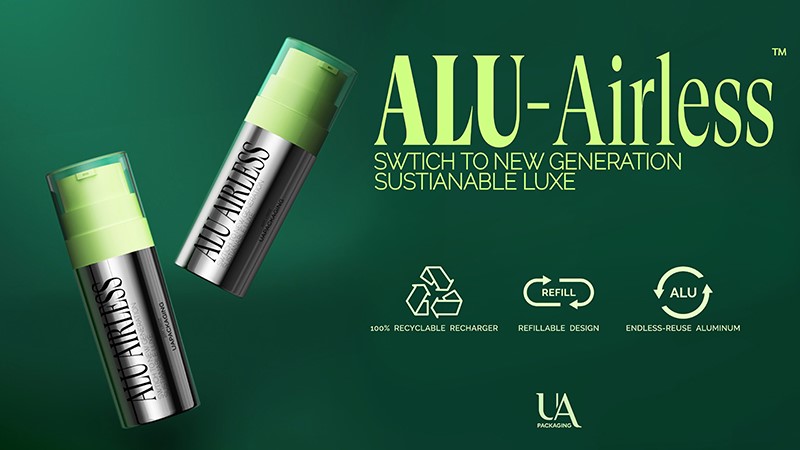 Aluminium is an infinitely recyclable material that can retain its original properties even after undergoing the transformation phase, making it cost-effective and more eco-friendly than primary aluminium production. Moreover, recycling aluminium creates a circular economy since, once produced, the non-ferrous metal can enter the never-ending loop of recycling and reuse.
UA Packaging, adhering to the newfound ideologies of sustainability and net zero emissions, has incorporated aluminium into its usual container-making process. Plus, aluminium has a shiny natural glow that can attract commercially invested human beings. ALU Airless jar catapults the company to develop its own eco-luxe packaging series that would balance sustainability and luxury.
ALU Airless jar swaps heavy wall plastic of luxury skincare containers with 100% recyclable aluminium, and in comparison with conventional packaging solutions, uses 50% less plastic, discarding the use of excess plastic, which has the sole purpose of extravagance and decoration.
Even though pure packaging is the most credible option, as nice as it seems, there are some boundaries. Aluminium can react easily with ingredients such as acid found in cosmetics; therefore, plain aluminium packaging is not a very wise option to vouch on. 
The ALU Airless Jar contains an airless container inside that applies a one-way valve system to allow flow control. With this internal addition, ALU Airless can be regarded as the best option to preserve concoctions without the fear of being oxidised. The material inside can retain its potency for longer while letting the skincare brands use lesser preservatives in the mix. 

One of the biggest hurdles in recycling multi-material packaging is separation and sorting. Aluminium shells glued to the inner plastic cup are not usually accepted by common recycling facilities and have a big chance of ending up in landfills. To reduce that problem, ALU Airless has been framed with a glue-free screw design so that the plastic and aluminium can be easily separated and sent in for recycling.