TETRA Pak (Malaysia) Sdn Bhd and Nestle Milo UHT came together to announce that the CAREton project 2019 consumer recycling campaign will be collaborating with the Petaling Jaya City Council (MBPJ). The project expects to recycle 35 million drink packs in 2019.
Inside of Tetra Pak aseptic cartons, a layer of aluminium eight times thinner than a human hair provides vital protection to perishable food from oxygen and light and keep them safe without refrigeration and preservatives for up to 12 months.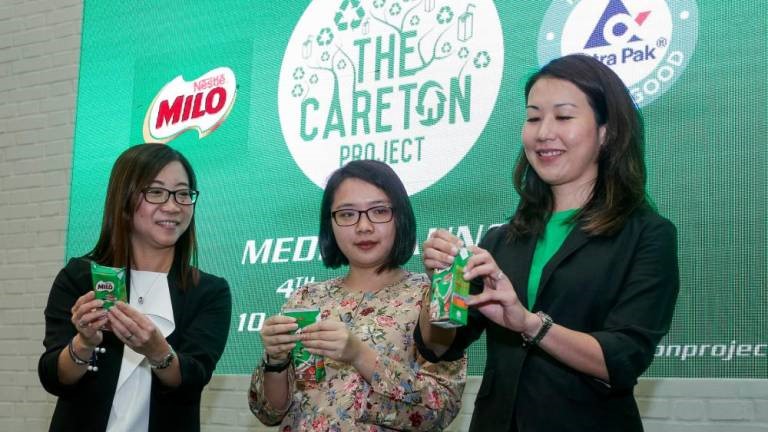 It is to be noted that 75% of the Tetra Pak carton is made from paperboard, 20% of polyethylene and 5% of aluminium. ​​​​​Tetra Pak cartons are fully recyclable. The paperboard can be recycled into paper prod​ucts and the remaining 25% polyethylene and the aluminium can be recycled into panel boards and roof sheets and so on.​ In the recycling plant, the paper is separated from the polyethyl​ene and aluminium via the hydra pulping process.  
The CAREton project will collect and recycle the drink packs which will be processed to make poly Aluminium (polyAl) panel boards and roofing tiles.
The CAREton Project started out in Malaysia in 2012 with EPIC Homes, an NGO, with Orang Asli communities of Malaysia as a beneficiary. Since then, it has provided enough roofing tiles and panel boards recycled from Tetra Pak to build over 150 homes and community infrastructures. This year, the CAREton project aims to extend its benefit to the local communities in Petaling Jaya. Drink packs will be recycled and converted into about 1,000 poly Aluminium (polyAl) panel boards, which will be provided to MBPJ.
"This will help revitalise the amenities and improve the wellbeing of the Petaling Jaya community. As everyone plays a vital role in environmental efforts, we hope this joint effort will help raise recycling awareness and education," said Bandar Utama assemblyman Jamaliah Jamaluddin.
Terrynz Tan, Environment Director for Tetra Pak Malaysia, Singapore & Philippines said that the recycling rates of Tetra Pak have been increasing, but, there is still room for more awareness and education on drink pack recycling.
"This is in line with our global ambition to make 100% of our packaging reusable or recyclable by 2025. With so many Malaysians enjoying our MILO ready-to-drink packs daily, we hope to inculcate better recycling habits be it for adults or children," said Ng Su Yen, Business Executive Officer for Nestle's Ready-to-Drink Business Unit.
Consumers were requested to drop off their used drink packs at the 500 CAREton collection points across Malaysia.
Recently, the Aluminium Stewardship Initiative (ASI) has announced Tetra Pak as the sixth company, and third end user of aluminium to become ASI Certified, less than a year after the certification programme was launched.