Victor Hammed, a native of the Nigerian historic city of Ilesa, Osun State, completed his primary and secondary schooling in his hometown before attending Obafemi Awolowo University, Ile Ife. Graduating with distinction in Materials Science and Engineering, Victor has emerged as a prominent figure in cutting-edge scientific exploration.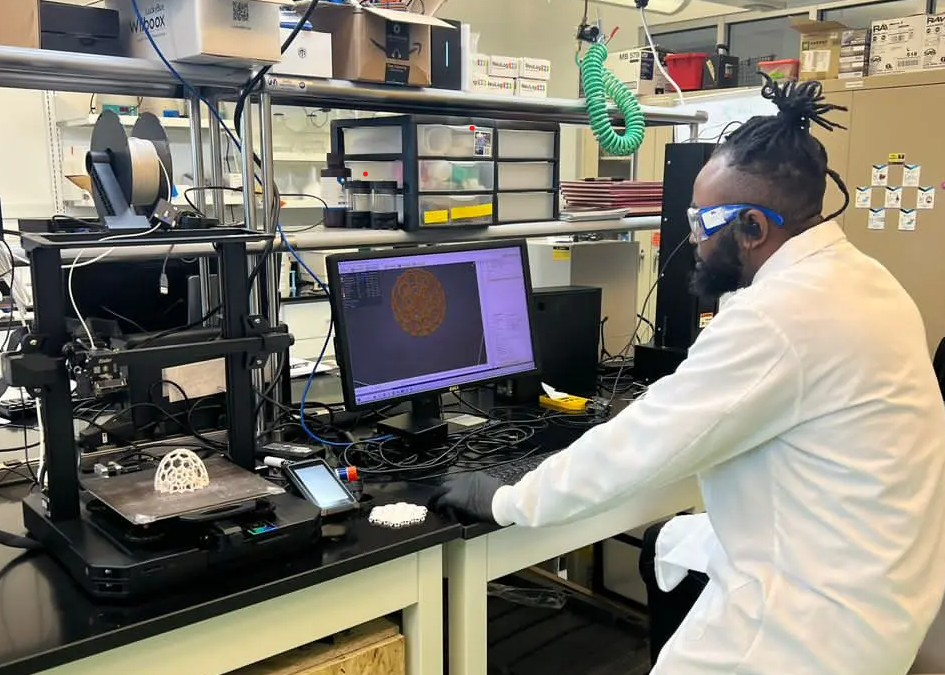 His expertise lies in the intersection of nanotechnology and green chemistry, where he has forged a path marked by comprehensive academic training and pioneering research endeavours. Like sustainable or circular chemistry, green chemistry is an area of chemistry and chemical engineering focused on designing products and processes that minimize or eliminate the use and generation of hazardous substances.
Over the years, Victor has consistently demonstrated his dedication to preserving and sustaining the environment. In his final year at university, he utilised eggshells and aluminium beverage cans to create an innovative product, showcasing his forward-thinking approach and commitment to addressing global challenges. Victor's early display of curiosity and research passion foreshadowed his future success and underscored his commitment to safeguarding climate health and human well-being.
Victor mentioned what inspired his senior-year project during his undergraduate studies, "Throughout my life, my overarching goal has been to contribute to humanity's well-being and to achieve that, I knew I had to make meaningful impacts. This commitment led me to concentrate on reducing environmental pollution. Growing up in Nigeria, I witnessed a disregard for waste management, a major contributor to environmental hazards. Given my comprehensive study of material behaviour, I saw a valuable opportunity to engineer innovative products and transform what might be considered waste into valuable resources. I ground eggshells into the microscale and alloyed them with aluminium beverage cans through foundry technology. An entirely different product with improved properties was formed."
Victor pursued his postgraduate studies at North Carolina A&T State University (NCATSU), delving into nanotechnology. His NASA-funded Master's research centred on CO2 absorption and zero-emission technologies. Victor innovatively explored Imidazolium Paramagnetic Ionic Liquids, synthesizing bespoke green solvents. Employing Evan's methodology, he optimized nanomaterial properties to boost absorption. He devised the isovolumetric (ISV) method, an improved version utilizing the pressure-drop technique to calculate CO2 molar mass. This semi-automated apparatus measured pressure per second, showcasing Victor's commitment to advancing green technology.
He enhanced his experimentative approach by blending his expertise in data analysis and machine learning tools, ensuring a thorough examination and interpretation of his findings. Unwavering, he continued exploring integrating the Thermogravimetric Analyzer (TGA). This instrument used the mass difference technique to measure the absorbed CO2 in Ionic Liquids.
Victor has garnered praise and acknowledgement for his significant contributions to the nanotechnology field, specifically in addressing climate change challenges. He said, "While working on my undergraduate project, I observed the release of CO2 into the atmosphere while manufacturing aluminium cans. Concerned about environmental pollution, I approached my supervisor to discuss my interest in studying CO2 capture. Balancing my passion for pollution reduction with the need to avoid worsening the ozone layer was crucial. My supervisor suggested studying nanotechnology, influencing my decision to pursue a Master's in Nanotechnology. Finding the right advisor at NCATSU was pivotal. The alignment of my passion with my research made the countless late nights in the lab truly worthwhile."