Mitsubishi Chemical is showcasing its most recent technological advancement, namely an all-composite enclosure for electric vehicle (EV) batteries, at booth 711 at The Battery Show North America in Novi, MI. The event, organised by Informa Markets - Engineering, the parent company of PlasticsToday, is scheduled to finish today, September 14th.
Multiple composite materials from Mitsubishi Chemical are incorporated into the battery enclosure, including a flame-retardant thermoplastic material that can withstand high-intensity thermal runaway events. The enclosure also includes an additional layer of insulating material comprised of Maftec polycrystalline alumina fibres from Mitsubishi Chemical to safeguard the battery cover.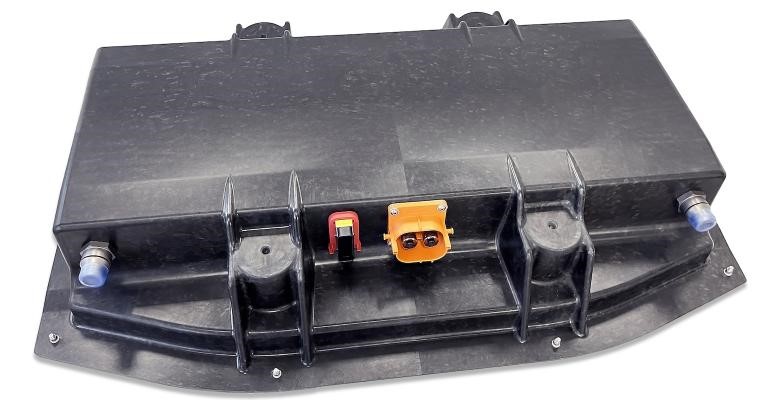 The EV battery housing, which is a product of collaborative efforts between Mitsubishi Chemical and its partners, is constructed using a plastic composite material. Notably, this material includes a layer of insulative substance derived from Mitsubishi Chemical's Maftec polycrystalline alumina fibres.
"With more than 15,000 people expected to attend [The Battery Show], this is a tremendous opportunity to showcase what we have been striving for in partnership with EDAG and Kreisel. One of the greatest concerns with electric vehicles in their current makeup is weight. By being able to reduce weight with a lighter battery enclosure, we are helping to make the transition to EVs and, thus, a more sustainable planet, more viable," said Marcel Remp, mobility marketing manager at Mitsubishi Chemical.
The collaborative partnership incorporates Mitsubishi Chemical's range of fibre-reinforced composite materials for advanced energy storage systems, EDAG's experience in mobility engineering, and Kreisel Electric's specialised skills in designing and producing battery storage systems.
The most recent design effectively addresses several difficulties associated with conventional electric vehicle battery casings. Heavy metallic profiles are often used in their production, hence potentially exerting a detrimental influence on the total weight and performance of the vehicle. Using composite materials, the enclosure fulfils the specifications for electric vehicle (EV) battery housings while concurrently achieving a substantial weight reduction.
John Conn, engineering project manager at Mitsubishi Chemical Group, said, "This is an exciting breakthrough that can make a real difference to the electric vehicle market, which is growing quickly as more people move to EVs. In addition to being extremely lightweight, the functional composite structure offers robust performance, high safety levels, and strong durability."

The bottom tray was designed with two distinct materials — prepreg sandwich and carbon-fibre forged moulding compound (CF FMC) — and manufactured using an innovative single process step to meet thermal, geometric, and structural specifications. In addition, Mitsubishi Chemical fabricated its tooling and produced the assembly in-house, demonstrating a flexible, vertically integrated supply chain that meets OEM requirements for customised solutions. The lightweight enclosure was designed by engineering services provider EDAG in collaboration with battery system manufacturer Kreisel Electric using its patented immersion cooling technology.