The US dollar fell against the safe-haven yen and Swiss franc on Tuesday as investors cut their exposure to riskier assets amid the partial US government shutdown and signs of confrontation between the White House and the Federal Reserve.
LME aluminium contract closed Monday's trading at US$ 1898.5 per tonne. Aluminium saw the biggest losses of some 1.3% on Monday night.
Trading was closed on Tuesday due to Christmas holiday.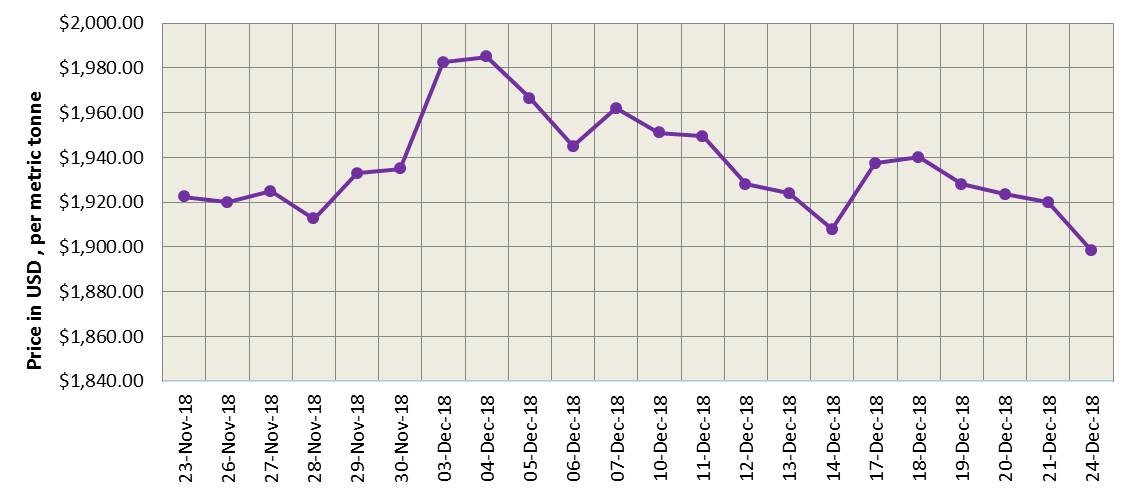 As on December 24, LME aluminium cash (bid) price stood at US$ 1898 per tonne, LME official settlement price stands at US$ 1898.50 per tonne; 3-months bid price stands at US$ 1898 per tonne, 3-months offer price is US$ 1899 per tonne; Dec 19 bid price stands at US$ 1965 per tonne, and Dec 19 offer price stands at US$ 1970 per tonne.  
The LME aluminium opening stock increased to 1266575 tonnes. Live Warrants totalled at 1050825 tonnes, and Cancelled Warrants were 215750 tonnes.
LME aluminium 3-months Asian Reference Price is hovering at US$ 1907.40per tonne.
SME and SHFE Aluminium Price Trend
The benchmark aluminium price on Shanghai Metal Exchange increased to US$ 1974 per tonne today from US$ 1970 per tonne on December 21.
The SHFE 1902 contract traded in a tight range to close at RMB13,835 per tonne after it initially hit a high of RMB13,870 per tonne. Recent supply cuts and some 800,000 tonnes capacity cuts agreed among Chinese biggest firms supported prices. Shanghai Metals Market expects SHFE aluminium to trade at RMB13,800-13,900 per tonne today with spot discounts at RMB110-70 per tonne.