The week from 31 December to January 4 has been a bearish week for both LME and SHFE aluminium. The US dollar index dipped below 97 this week as stocks traded higher after a week of price swings.  There were holidays in SME and LME for New Year's Day. LME aluminium started the week at US$1869.5 per tonne and continued falling to reach RMB 1825.5 per tonne on Thursday. However, at the end of the week LME recovered some losses and closed at RMB 1879 on Friday.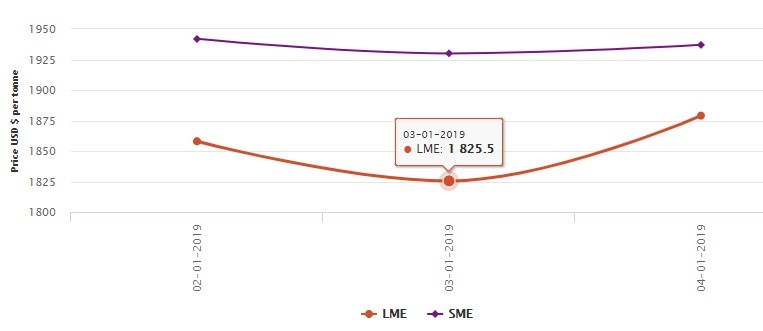 As on January 3, LME aluminium cash (bid) price stood at US$ 1825 per tonne, LME official settlement price stands at US$ 1825.50 per tonne; 3-months bid price stands at US$ 1820 per tonne, 3-months offer price is US$ 1820.50 per tonne; Dec 19 bid price stands at US$ 1980 per tonne, and Dec 19 offer price stands at US$ 1985 per tonne.  
The LME aluminium opening stock increased slightly to 1272925 tonnes. Live Warrants totalled at 1034175 tonnes, and Cancelled Warrants were 238750 tonnes.
LME aluminium 3-months Asian Reference Price is hovering at US$ 1804 per tonne.
SME and SHFE Aluminium Price Trend
The benchmark aluminium price on Shanghai Metal Exchange started the week at US$ 1942 per tonne on December 2 as the exchanged remained closed on the first two days of the week. Then it closed the week at US$ 1930 per tonne on January 4.
The March contract (SHFE 1903) became the most traded SHFE aluminium contract this week. The contract tumbled to a low of RMB 13,345 per tonne shortly after opening as the cost support is falling. The SHFE 1902 contract performed similarly and continued a low run over the week.
Growing inventories and declining costs pose challenges for SHFE aluminium, which is unlikely to substantially rebound in the coming week. For LME too, we see no strong fundamental supporting the prices. If the dollar continues its low run, the LME will get some support in the coming week.