The US dollar weakened following the biggest slump in the manufacturing activity index by the Institute for Supply Management (ISM) since 2008. The US dollar index, which tracks the greenback against a basket of six global currencies, stood 0.5% lower at 96.32. Base metals grew for the most part as LME aluminium surged over 3%. SHFE aluminium edged down. 
LME aluminium closed further down yesterday, January 3 at US$1825.50 per tonne. A surge of longs rallied LME aluminium to a high of US$1,849 per tonne and ended it at US$1,848.5 per tonne overnight. However, weak fundamentals may limit momentum and keep prices at US$1,815-1,855 per tonne today.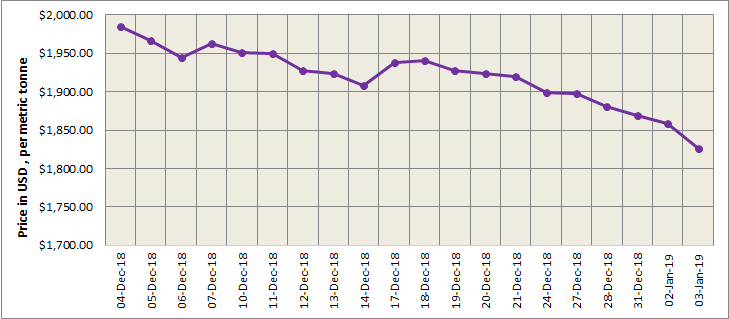 As on January 3, LME aluminium cash (bid) price stood at US$ 1825 per tonne, LME official settlement price stands at US$ 1825.50 per tonne; 3-months bid price stands at US$ 1820 per tonne, 3-months offer price is US$ 1820.50 per tonne; Dec 19 bid price stands at US$ 1980 per tonne, and Dec 19 offer price stands at US$ 1985 per tonne.  
The LME aluminium opening stock increased slightly to 1272925 tonnes. Live Warrants totalled at 1034175 tonnes, and Cancelled Warrants were 238750 tonnes.
LME aluminium 3-months Asian Reference Price is hovering at US$ 1804 per tonne.
SME and SHFE Aluminium Price Trend
The benchmark aluminium price on Shanghai Metal Exchange increased to US$ 1937 per tonne today from US$ 1930per tonne on January 3.
The March contract became the most traded SHFE aluminium contract today. The contract tumbled to a low of RMB 13,345 per tonne shortly after opening as shorts added bets of over 2,000 lots. After rebounding to the RMB 13,400 per tonne level, it fell to another low of RMB 13,340 per tonne shortly before closing yesterday. The contract finished the trading day some 1.2% lower at RMB13,350 per tonne. The SHFE 1902 contract performed similarly yesterday and closed some 1.1% lower at RMB 13,295 per tonne. The SHFE 1903 contract rebounded today after it dropped to the lowest since January 2017, at RMB 13,290 per tonne. Eased pressure from shorts accounted for the rebound. We expect the contract to trade rangebound at RMB 1,350-13,450 per tonne today with spot discounts at RMB 80-40 per tonne. 
Growing inventories and declining costs pose challenges for SHFE aluminium, which is unlikely to substantially rebound tonight.