The US dollar index weakened on Thursday as investors flocked to safe-haven currencies following another volatile trading session of US stocks market. LME base metals traded mixed on Thursday after a two-day closure for the Christmas holiday, but, aluminium dropped 1.2%. SHFE base metals, except for lead, ended in the black across the board overnight and aluminium fell over 1%.
LME aluminium closed yesterday's trading on a bearish note at US$1898 per tonne, almost flat from where it stood before the holidays. The aluminium contract then extended its losses on Thursday night as the removal of US sanctions on Rusal created a relaxed atmosphere in the market. It is expected to trade at US$1,840-1,880 per tonne today.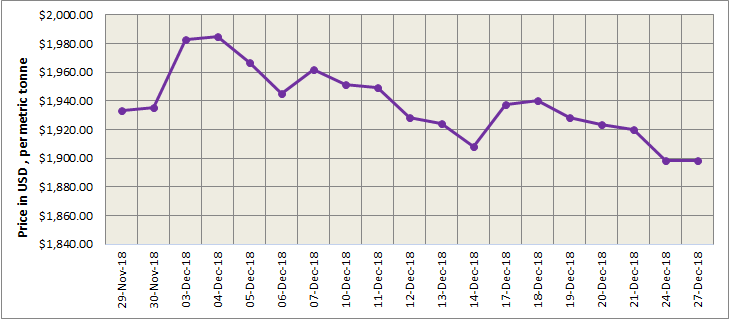 As on December 27, LME aluminium cash (bid) price stood at US$ 1897 per tonne, LME official settlement price stands at US$ 1898 per tonne; 3-months bid price stands at US$ 1881 per tonne, 3-months offer price is US$ 1881.50 per tonne; Dec 19 bid price stands at US$ 1950 per tonne, and Dec 19 offer price stands at US$ 1955 per tonne.  
The LME aluminium opening stock dropped slightly to 1266550 tonnes. Live Warrants totalled at 1023875 tonnes, and Cancelled Warrants were 242675 tonnes.
LME aluminium 3-months Asian Reference Price is hovering at US$ 1899 per tonne.
SME and SHFE Aluminium Price Trend
The benchmark aluminium price on Shanghai Metal Exchange remains unchanged from yesterday at US$ 1966 per tonne today.
A significant decline in alumina prices lowered the SHFE 1902 contract to a low of RMB 13,645 per tonne in the afternoon, as longs left. A loss of 14,456 lots of open interest ended the contract at RMB 13,650 per tonne. The SHFE 1902 contract fell to close at RMB 13,565 per tonne overnight. Recent declines in alumina prices and a rebound in social stocks affirmed our expectations that aluminium prices would fall into the medium term. The contract is expected to trade at RMB 13,520-13,650 per tonne today with spot discounts at RMB 120-80 per tonne.