The US dollar index dipped to 95.63, the lowest since October 12, 2018, pressured by growing expectations the US Federal Reserve could stop its interest rate hike cycle. Slower-than-expected growth in the US services sector also weighed on the greenback. Base metals increased for the most part as LME aluminium went up 0.54%. SHFE aluminium edged down. 
LME aluminium contract closed Monday's trading at US$ 1858 per tonne. Limited upward momentum ended LME aluminium at US$1,878 per tonne, after it rallied to a high of US$1,885 per tonne and consolidated above the daily moving average. It is likely to trade at US$1,855-1,888 per tonne today.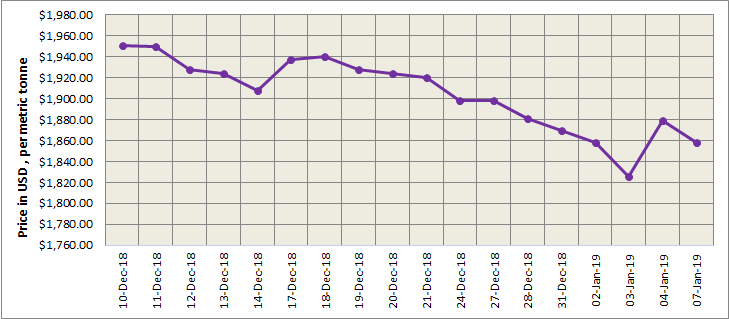 As on January 7, LME aluminium cash (bid) price stood at US$ 1857.50 per tonne, LME official settlement price stands at US$ 1858 per tonne; 3-months bid price stands at US$ 1873.50 per tonne, 3-months offer price is US$ 1874 per tonne; Dec 19 bid price stands at US$ 2030 per tonne, and Dec 19 offer price stands at US$ 2035 per tonne.  
The LME aluminium opening stock decreased slightly to 1276050 tonnes. Live Warrants totalled at 1035350 tonnes, and Cancelled Warrants were 240700 tonnes.
LME aluminium 3-months Asian Reference Price is hovering at US$ 1875 per tonne.
SME and SHFE Aluminium Price Trend
The benchmark aluminium price on Shanghai Metal Exchange dropped to US$ 1941 per tonne today from US$ 1946 per tonne on January 7.
The SHFE 1903 contract faced resistance at the five-day moving average, and closed at RMB13,465 per tonne after it rose to a high of RMB13490 per tonne overnight. Spot discounts are set at RMB50-10 per tonne. Shanghai Metals Market expects the contract to trade at RMB13,380-13,480 per tonne.