The globally acknowledged luxury cosmetics brand established by Nicolas Gerlier is on a journey to make its packaging solutions eco-friendly and recyclable. La Bouche Rouge has introduced five organically sourced upcycled fragrances in a collectable glass bottle series that can be refilled with 100% recyclable aluminium tubes to run this mission.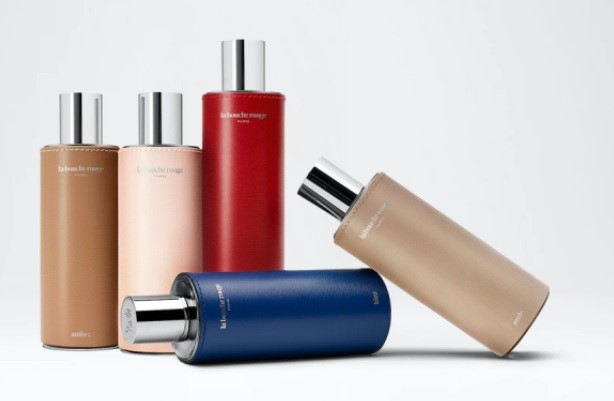 The plastic-free and refillable cosmetics provider barges into the perfume industry with this range of five eccentric aromas. This first collection of fragrances by La Bouche Rouge is to show the world how essentials can be formulated with 100% natural ingredients.
La Bouche Rouge has incorporated 30% upcycled raw items alongside 90% organic ingredients to extract a formula that is "respectful of the environment and our skin". All the other items that do not adhere to the Net Zero criteria were all abolished from the mixture. The brand also chose to use 100% organic alcohol than the chemical alternative.
The five newly formulated fragrances are named Rouge, by Dora Baghriche; Nude, by Alexandra Monet; Bleu, by Alexis Grugeon; Ambre, by Coralie Spicher and Rose, by Nicolas Bonneville.
La Bouche Rouge fragrances come in specially crafted 100ml refillable bottles coupled with twist-off sprayers. The bottle is then carefully packed in a hand-crafted leather case showcasing the hues of the individual scents. The leather has been added by legendary Tanneries du Puy and is attested by the label 'entreprise du patrimoine vivant' (living heritage company).
The brand reflected on the new addition: "In traditional production, a third of all bottles are rejected for small imperfections in the outer glass or shape of the inner drop. La Bouche Rouge is putting a stop to this wasteful madness for the 21st century."
The brand has invented an uno-material, plastic-free refill made of 100% upcycled aluminium to decrease the dependency on raw materials. To top it all off, the infinite recyclability of aluminium makes this a wise addition since the aluminium tube can be transported for recycling after use. The brand had to design a breakable pouring spout to discard plastic completely.
"If a perfume refill is just a second glass bottle with a plastic tip, how much unnecessary waste does that produce ?" La Bouche Rouge wanted to know.
The brand wishes to instigate the common mass with these good practices. To make their ideology more profound, La Bouche Rouge permits a 100 euros saving when one buys the 100ml refill in place of the 100ml glass bottle. This sustainability idea may be crucial in changing the daily lifestyles of users, making them more environmentally conscious.

The brand's President and Founder, Nicolas Gerlier, concluded: "In the world of beauty, the revolution is played out in the search for balance between aesthetics, performance and sustainability."