HydroSKIN, a new material developed at the University of Stuttgart, Germany, has been found to exhibit impressive cooling potential for building façades. Specifically, it uses a textile and foil-based element to collect rainwater, which can then evaporate and cool the surface of the building. The solution is then pinned on an aluminium profile to maintain a certain shape.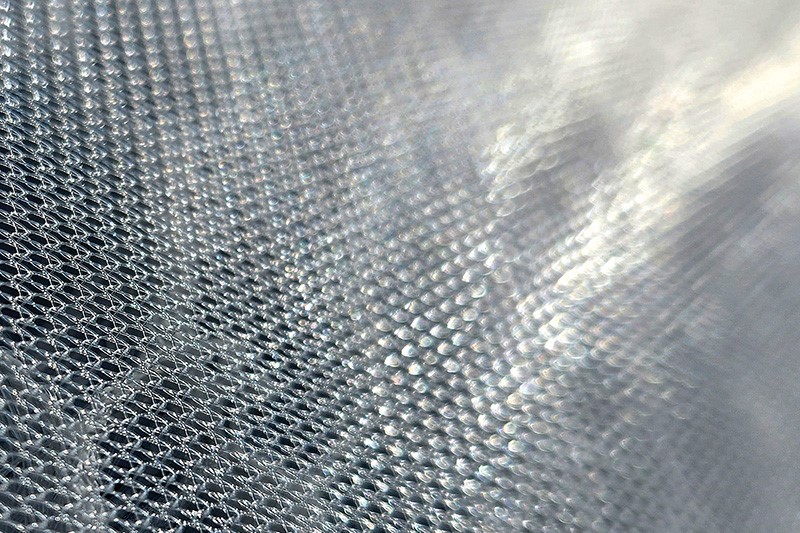 In fact, according to Christina Eisenbarth, who led the project, HydroSKIN has been shown to achieve a temperature reduction of more than 20°C on the façade surface when transitioning from a dry to a wet state. Moreover, the surface temperature of HydroSKIN in its wet state is more than 50°C lower than that of other conventional façade materials.
The material comprises a multi-layered system design featuring a translucent outer layer that protects the other layers from dirt and insects, a spacer fabric that enhances air circulation, and a foil layer that guides water flow. The layers are made of polyester and ETFE foil and are framed in an aluminium profile that includes spray nozzles for irrigating the textile surface.
"Layer 1 and 2 are made of polyester, layer 3 is an [ethylene tetra fluoro ethylene] ETFE foil. All components are biaxially prestressed and framed in an aluminium frame profile comprising also the spray nozzles for irrigating the textile surface," Eisenbarth asserted.
To develop the material, Eisenbarth and her team conducted a systematic and iterative research process investigating each layer's rainwater harvesting potential in the laboratory. This included analyzing the droplet impact behaviour of the layers, as well as their evaporative cooling performance under controlled laboratory conditions. Based on the laboratory evaluations, multi-layer systems were developed and experimentally evaluated again in an outdoor test rig to assess their performance under real weather conditions.
Finally, the resulting multi-layer systems were completed by a specially designed profile system, including fluidic components such as the spray nozzles and water pipes, to create a highly efficient HydroSKIN-façade prototype. HydroSKIN has the potential to revolutionize the building industry by providing a sustainable and effective means of cooling building façades. While the material is still in the start-up phase, the research team is ready to take on larger-scale projects and partner with textile companies, ETFE producers, and façade construction companies to bring the technology to market.