Fineday has designed a unique mechanical keyboard that resembles a classic typewriter. It's made of full aluminium and has a retro style with modern features.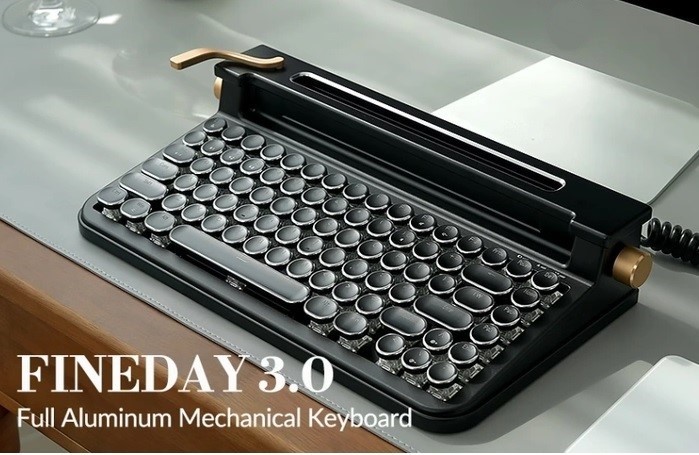 The keyboard has handmade keycaps alongside Cherry MX Blue switches and is compatible with both Windows and macOS. The Bluetooth 5.0-enabled keyboard is constructed from aircraft-grade aluminium and has LED backlighting.
"Introducing FINEDAY 3.0, a new high-end mechanical keyboard inspired by the classic typewriter design! From its body, keycap, knob, and lever, FINEDAY 3.0 has used full aluminium for durability as well as easy maintenance. Experience the best of both worlds—enjoy the timeless charm and make a worthwhile investment that will make your desk setup extra special," the company advertised.
The FINEDAY 3.0 Aluminum Edition keyboard is constructed entirely of aircraft-grade aluminium, making it extremely durable. All components, from the keyboard body to the keycaps, knob, and lever, are built to last using high-density aluminium 6063 materials. Furthermore, the keyboard body has been finished with a luxurious glossy coating using CNC Dual Anodizing, a method that creates an even layer of oxide films, increasing the surface's shine and strength.
If the Fineday 3.0 funding campaign succeeds and manufacturing proceeds smoothly, worldwide shipping is projected around August 2023.
For a glance at all the specialised project plans by the firm or to get a complete view of the typewriter's properties, one should visit the official Fineday 3.0 crowdfunding campaign page.

"A solid 3.9lbs of the full aluminium body allows users to mount various devices on the product while typing. Our high-quality keycaps will not corrode over time, with each letter engraved remaining clear and readable. The keycaps of our keyboard are one of a kind. Aluminium craftsmen take a whole sheet of aluminium, trim it into the delicate shape of keycaps, and engrave the alphabets by perforating," concluded the firm.