Every Can Counts has installed a vibrant rainbow made of used aluminium cans in front of the York Art Gallery in England. This move was to commemorate Global Recycling Day on March 18 alongside advocating the smooth recycling of aluminium cans to induce a circular economy.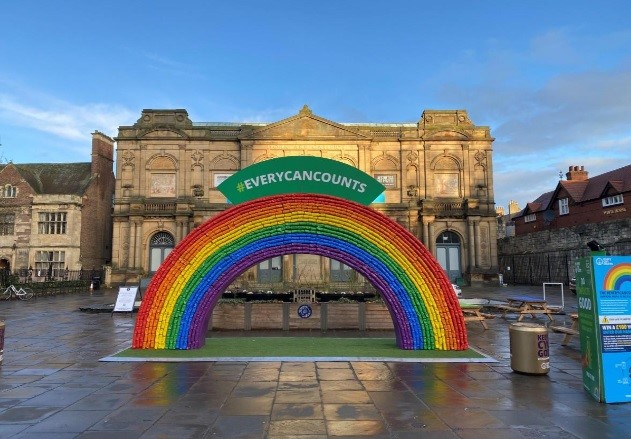 This awareness drive by Every Can Counts is one of its kind, and it solidifies the non-profit organisation's commitment to a green economy. The aluminium can construct of the rainbow will be displayed until Friday, March 24. It consists of 2,500 aluminium cans which have been given different hues to
There is a fun proportion to this entire scenario as Every Can has arranged for a social media photo contest wherein participants may upload their photos with the rainbow in the background and bag a chance to win a £100 York gift card.
The programme manager for Every Can Counts, Chris Latham-Warde, commented: "Our rainbow installation has toured up and down the country – from Glasgow to London – and we're thrilled for it to be making its Yorkshire debut to mark Global Recycling Day this weekend."
"As well as brightening up the city centre, our installation will be reminding people about the benefits of recycling their drink cans," Chris notified.
"Aluminium is infinitely recyclable, and every empty can could be recycled and back on a shop shelf as a brand-new can in just 60 days," he added.
"The people of York can play their part in this process by ensuring all their empty cans end up in the right bin, allowing this valuable material to remain in circulation," Chris concluded.
Every Can Counts carried out mass surveys on 150 York residents to find out about their individual recycling habits on March 6.
As the record estimated, the York dwellers drink an averagely of around three cans a week, of which almost 71 per cent gets successfully recycled. Among groups of ten, nine people were seemingly conscious about the benefits of recycling, but over 35 per cent came to realise they were putting recyclable items into refusal bins when scrap collection drives are unavailable.
More than 60 per cent of the community voiced their concerns about the unavailability of recycling bins in public places. Forty-one per cent of the group were eager to use recycling bins since they hoped for more recyclability in the area.

The executive member for the environment and climate change at the City of York Council, Cllr Paula Widdowson, exclaimed: "This is a fantastic campaign to highlight the importance of recycling here in York, which we hope everyone will engage with and take photos of!"
This news is also available on our App 'AlCircle News' Android | iOS