Eurostat reported that in 2022, the circular material use rate in the EU reached 11.5 per cent, indicating that 11.5 per cent of the material resources utilized in the European Union were derived from recycled waste materials.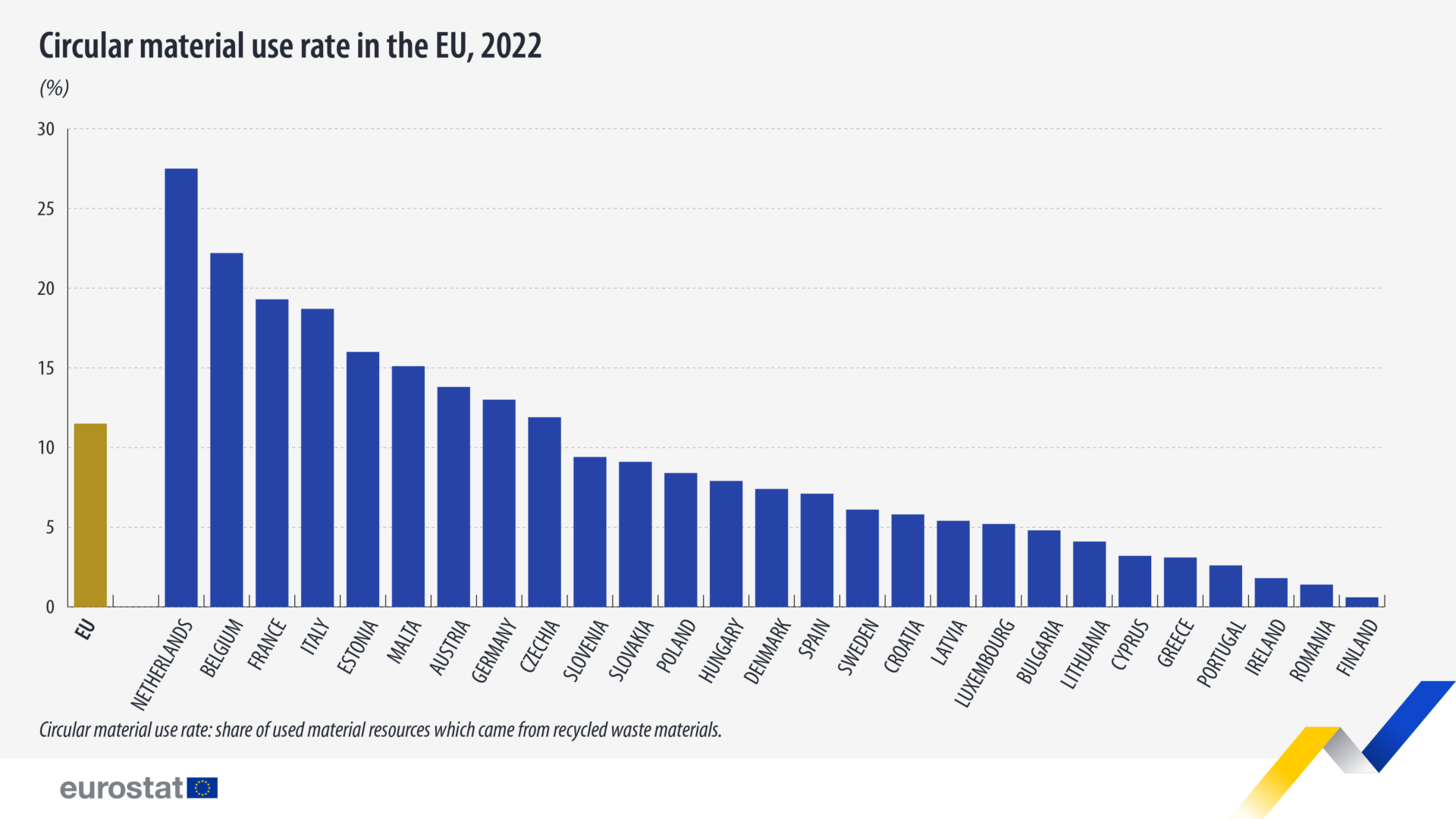 The statistical office of the European Union is Eurostat, with a mission to provide high-quality statistics and data on Europe. Eurostat produces European statistics in partnership with National Statistical Institutes and other national authorities in the EU Member States.
There was an increase of 0.1 percentage point in circularity compared to 2021. From 2010 to 2022, the rate witnessed a growth of 0.8 percentage points, rising from 10.7 per cent to 11.5 per cent. The peak shares were recorded in 2018 and 2020 at 11.6 per cent.
In 2022, the Netherlands exhibited the highest circularity rate at 27.5 per cent, with Belgium following closely at 22.2 per cent and France at 19.3 per cent. Conversely, Finland reported the lowest rate at 0.6 per cent, accompanied by Romania at 1.4 per cent and Ireland at 1.8 per cent. Disparities in circularity rates among EU countries stem from factors beyond recycling volumes, incorporating structural elements inherent to each national economy.
In 2022, metal ores exhibited the highest circularity rate among main material types, reaching 23.9 per cent, reflecting a 0.6 percentage point increase compared to 2021. Non-metallic minerals followed with a circularity rate of 13.7 per cent, showing a marginal decrease of 0.1 percentage point. Biomass demonstrated a circularity rate of 10.0 per cent, marking a 0.6 percentage point increase. Fossil energy materials/carriers maintained a circularity rate of 3.2 per cent, with no change from the previous year.