A healthy meal which can be prepared in a flash is what COSORI thought for its popularity. The premier kitchen appliance brand under the umbrella of Vesync Co. has announced its 5.7L ceramic-coated aluminium inner pot pressure cooker in the UK, making life easier by incorporating a range of cooking methods.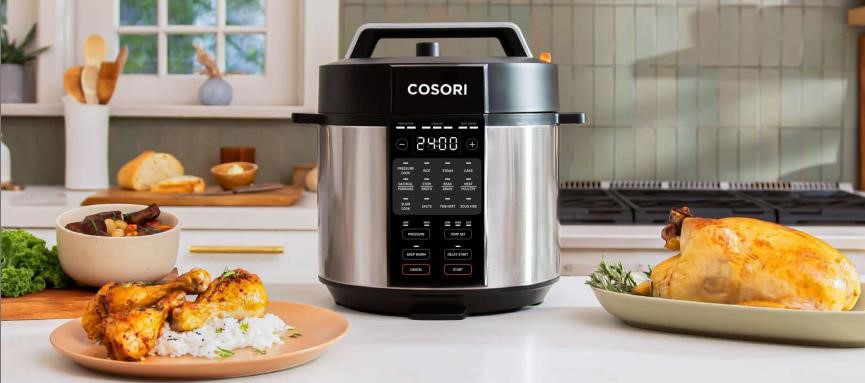 The COSORI 5.7L Pressure Cooker has 13 customizable preset routines and a start delay of up to 24 hours. It has a real-time progress bar, a One-Touch Control Panel, and an ergonomic design. It includes safety features such as a double-layer anti-scalding lid, overheat protection, and automatic steam release. The stainless steel cooker comes with fingerprint-resistant, dishwasher-safe accessories and a cord holder in the base. The Pressure Cooker comes with a steam rack, ceramic-coated aluminium inner pot, soup ladle, standing rice paddle, and measuring cup with handle.
From baking sheets, foils and wraps, different baking cans, and blenders, all are embodied with aluminium, proving its importance in every aspect of life. Its versatility, lightweight nature, anti-rust properties and excellent thermal conductivity make it a favourite material for cooking utensils and cookware.
The COSORI 5.7L pressure cooker has been precisely designed to speed up cooking processes, with an astounding 70% reduction in cooking time when compared to traditional ovens. This kitchen equipment excels at preparing dishes quickly without sacrificing the slow-cooked, high-quality flavours that are important to gourmet dining.

The founder and CEO of Vesync CO, Ltc, said: "At COSORI, we're passionate about empowering busy families to eat healthy, nutritious meals with minimal effort, which is why we're excited to launch the 5.7L Pressure Cooker. By adding the newest addition to our innovative selection of product offerings at COSORI with the 5.7L Pressure Cooker, we wanted to provide an easy and versatile appliance for our customers to cook worry-free, delicious and healthy meals in record time, perfect for busy lifestyles."