Cornell Dubilier Electronics, Inc. has come up with a recently developed series of Flatpack, low-profile aluminium electrolytic capacitors that have the strength to run uninterrupted for 10,000 hours at 105 °C.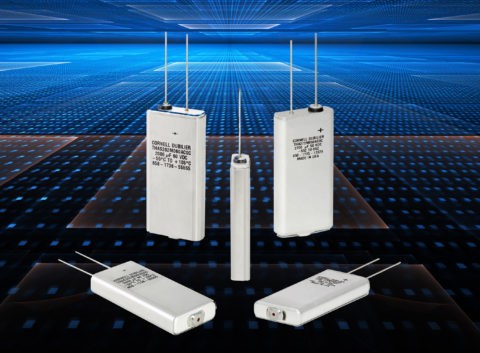 The MLPS clan provides extreme capacitance density in a flat construct, with voltage ranging up to 450 Vdc and a temperature hovering between -55 °C to 105 °C. The strategically crafted uneven build allows an impeccable life cycle and makes the aluminium capacitor compatible with humungous commercial or military-grade power supply channels.
These MLPS capacitors can be found in four different sizes. All the aluminium cases have a thickness of 0.6 inches and a width of 1.8 inches. The external aluminium cases are customisable from 1.5 to 3.0 inches, with capacitance rate varying from 120 to 51,000 µF and voltage ratings circling 7.5 Vdc to 450 Vdc.
The bigger case sizes are usually rated for several amps (RMS). Ripple current ratings can be considerably augmented by adding one or more than one heat sinks to their flat sides.
These MLPS covers are laser-welded, unlike the contemporary electrolytes with rolled covers. Since MLPS has laser-welded attributes, the capacitor enjoys a near-hermetic seal that prevents electrolytes from drying. The aluminium capacitors possess incredible capacitance retention ability at low temperatures. They can be installed in devices or vehicles flying as high as 80,000 feet above the ground.
The Product Manager for Cornell Dubilier, Austin Russell, states: "The introduction of 105 °C rated Flatpack capacitors will give our customers greater design flexibility, higher performance, and economy in their critical power supply designs."
Huge banks of surface-mounted aluminium electrolytes or axial wet tantalum capacitors can be replaced by one or two MLPS capacitors, which in turn curtails the cost, cuts down the weight and makes great use of the given space in a customer's electronic device.

Cornell Dubilier Electronics' Flatpack capacitors have been abundantly used in commercial and military-grade aircraft for the past 25 years. The company has supplied aluminium capacitors for both ground-based and shipboard radars.
This news is also available on our App 'AlCircle News' Android | iOS