Juan Campanini and Josefina Sposito, an architecture studio based in Buenos Aires, Argentina, have designed and constructed a six-residence building called the Virrey Aviles Street housing, which was completed in 2022. The aluminium façade building was developed using a legal tool called "Fideicomiso," where residents collectively invest in small-scale building developments for homeownership in the often-unattainable housing market.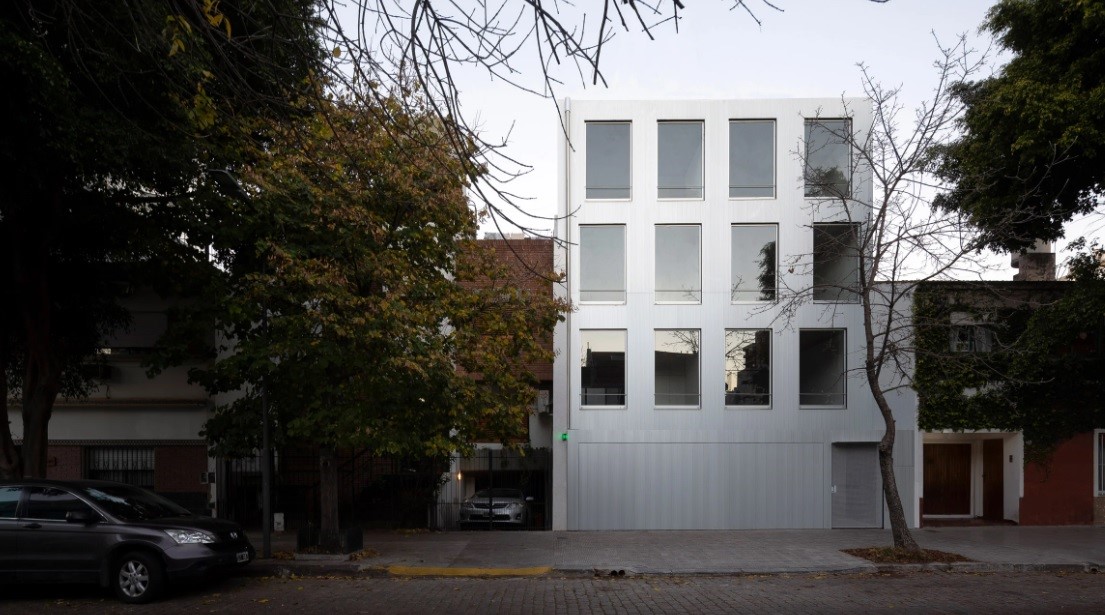 The architects helped the residents purchase the typical 8.66-metre-wide parcel of land and constructed the 450-square-metre aluminium-wrapped building located in the residential neighbourhood of Colegiales. The building features a two-metre-high wall along the street that folds up into a garage door for parking under the raised apartments.
The studio notified: "In the context of Argentina's unstable financial system and the lack of long-term bank loans or large-scale public investments, this alternative system allowed us to face the owners' necessities while participating in every stage of the process."
"When seen from the site, its minimum thickness reveals its superficial behaviour, performing as a falling veil that covers the building's front. In this way, the building creates a unified plain image towards the city, refusing to reveal any interior organization," was added to the statement.
The building is raised on light-blue steel H-shaped columns set 1.5 metres behind the property line. The facade is composed of corrugated aluminium with a silver anodized finish, commonly used in roof cladding, punctuated by 12 identical rectangular windows arranged in a grid.
The ground floor is an open-plan space that contains a small concrete volume for the elevator, basement stairs and ductwork. The rear edge of the property holds two small planted gardens divided by a concrete stair with a thin, white metal railing that elevates the entire height of the building.
"From the height, the neighbourhood's landscape emerges, and the project stands as a single part of the heterogeneous landscape of the city," the studio asserted.

The unit interiors feature polished concrete floors, rough concrete ceilings, and flat white walls. Two large windows provide urban landscape views and allow natural light into each unit.