Guinea is the most significant bauxite supplier to the world with 7.4 billion bauxite reserve which is about 25% of the world's total bauxite reserves. The country accounts for 95% of African bauxite production and 15% of world bauxite production according to the latest data from the US Geological Survey.
With the highest bauxite reserves and a solid export-oriented growth plan, Guinea has been racing past many countries to become the key bauxite exporter globally. A four-year historical data set clearly indicates at that trend.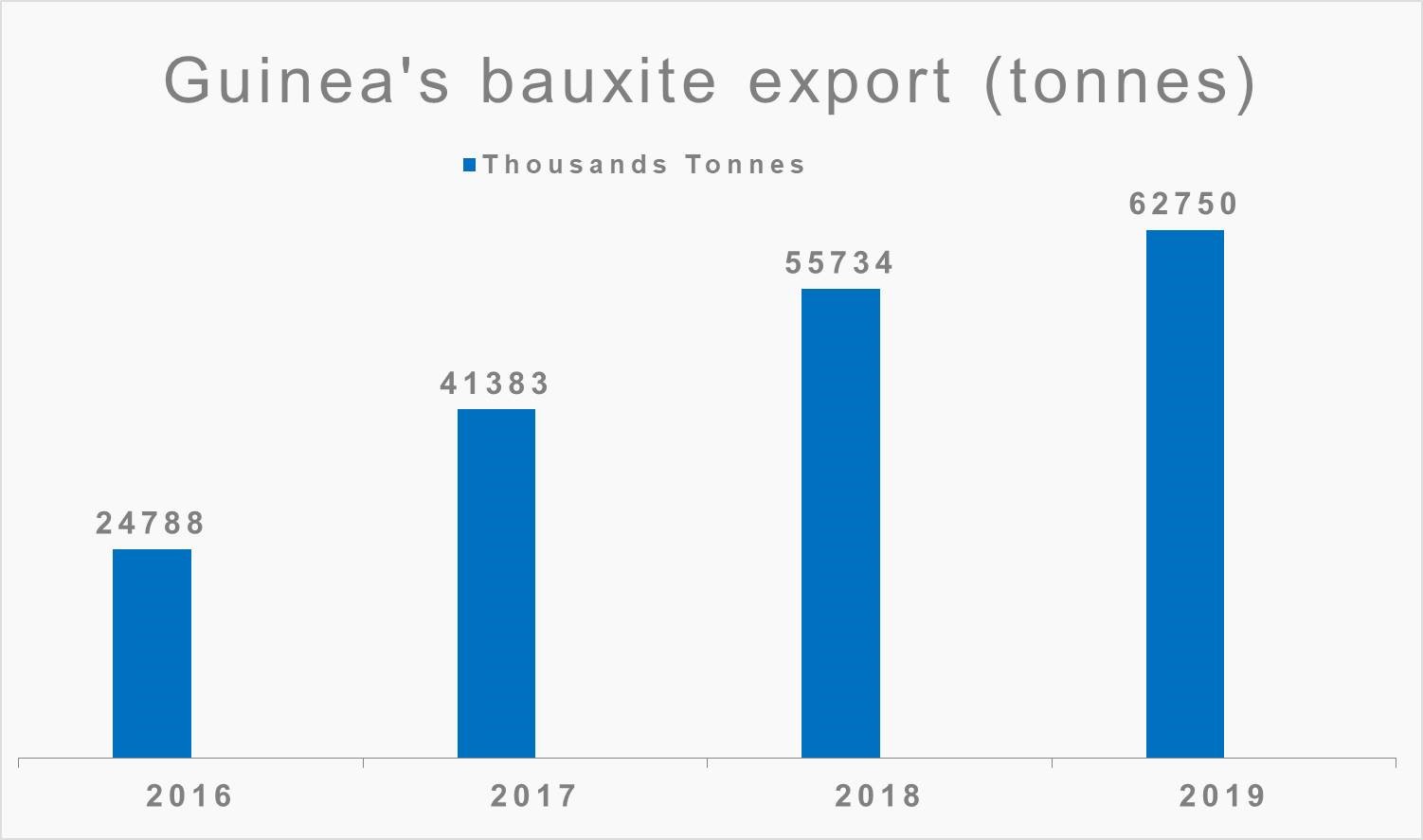 According to our third-party data, the African nation is estimated to export 62 million tonnes of bauxite in 2019, compared with the estimated export amount of 55 million tonnes in 2018. This marks a growth of 13 per cent year-on-year. In 2016 and 2017, Guinea's estimated bauxite export volume was 24 million tonnes and 41 million tonnes, which represents the fact that in 2017 and 2018 Guinea had recorded year-on-year growth in bauxite export by 113 per cent and 34 per cent, respectively.
China, the top producer of aluminium and the biggest importer of bauxite globally, is estimated to import 48 million tonnes of bauxite from Guinea this year, according to the third-party data.
During January-March last year, China's bauxite import from Guinea had stood at 10.5 million tonnes, after growing 118.85 per cent year-on-year. In the entire year of 2018, China's estimated import volume from Guinea was at 41 million tonnes.

Germany, Ireland, Spain are also expected to import bauxite from Guinea this year.
So far, 2019 has been a great start for Guinea's bauxite projects. At the beginning of the year, Emirates Global Aluminium (EGA) achieved a milestone at its under-construction Guinea bauxite mining project as the first bauxite train travelled from its subsidiary Guinea Alumina Corporation's (GAC) mine to the coast, carrying some 6,800 tonnes of bauxite. First bauxite export from the project is expected in the second half of this year. Also, GAC is about to secure financing of US$700 to US$750 million for the project that is expected to mine approximately 12 million tonnes of bauxite per year on the completion.
This news is also available on our App 'AlCircle News' Android | iOS