Trials are underway at Brisbane, Townsville, and Gold Coast stadiums that are testing alternatives to single-use drinking cups.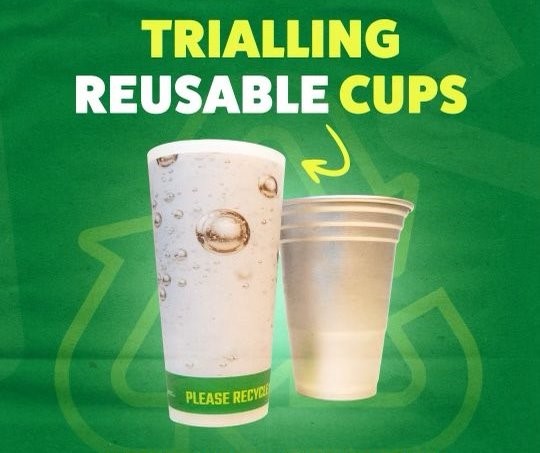 Stirling Hinchliffe, the sports Minister, said, "At this past weekend's Brisbane Heat Big Bash games at The Gabba, the first innings of Stadiums Queensland's reusable drink container experiments were played."
"We understand that enjoying a cold beer is an important part of the world-class event experience at a Queensland stadium, but we also want it to be sustainable."
"The testing of reusable drink containers is a part of the Palaszczuk administration's continuous dedication to safeguarding Queensland's opulent way of life and our distinctive environment for coming generations", the minister added.
Three solutions were compared: cans of recyclable or reusable beverages, aluminium cups, and polypropylene plastic cups.
Hinchliffe said, "The Gabba and Queensland Country Bank Stadium will provide up to 10,000 reusable cups. Attendees are urged to return used cups to specified collection stations inside the venue for offsite cleaning."
The project is looking into a procedure that can offer practical reusable drink containers for spectators, Queensland's stadium venues, and the environment. This is an opportunity to see how Queensland can lead the nation in sustainable stadium sports experiences with less than a decade until the Brisbane 2032 Olympic and Paralympic Games.
Meaghan Scanlon, the Environment Minister, said, "The Stadiums Queensland trials were a positive next step in Queensland's war on waste. Every year, Queensland stadiums use over 1.5 million disposable drinking cups, each of which takes an estimated 450 years to degrade in a landfill."
This pilot will show potential locations for future local manufacturing and prospects to introduce reusable drink containers.
Scanlon said, "Regarding the damaging effects of plastic pollution on the environment, the Queensland Government was devoted to finding solutions. The stadium trials will build on our successful single-use plastic bag and straw bans and our $1.1 billion Recycling and Jobs Fund."
Stadiums Queensland issued a tender call in May 2022 for trials of alternatives to single-use drinking containers at stadium venues, with reusable cup companies Wise and WOSUP identified as the most suitable and experienced options for the supply and cleaning of multi-use cups. At The Gabba for the Big Bash game on Sunday, reusable polypropylene plastic cups will be trialled. Aluminium cups will be trialled at the Cowboys' home games at Queensland Country Bank Stadium on March 27 and April 7.
This news is also available on our App 'AlCircle News' Android | iOS