Aluminium Stewardship Initiative has presented Performance Standard V2 (2017) Certification to Ningbo Tuopu Group Co., Ltd. under Provisional status. The certification is for the company's Light Alloy System 9th Unit in Ningbo, China, wherein it operates casting, semi-processing, aluminium remelting/refining and material conversion.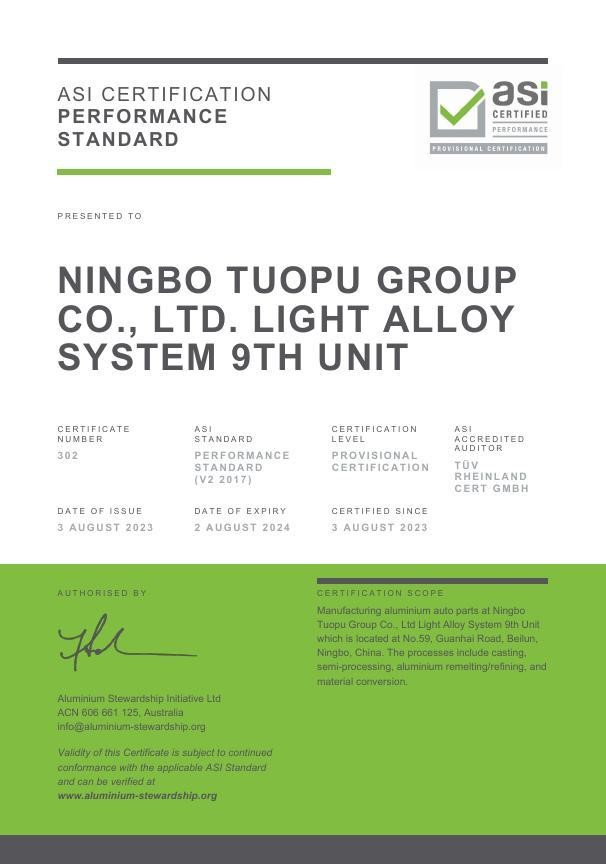 Ningbo Tuopu Group Co. manufactures power chassis systems, trim systems, and intelligent driving control systems for the automotive industry, and is also engaged in research and development.
Ningbo Tuopu received the certification after undergoing a stringent, independent, third-party audit carried out by TÜV Rheinland Cert GmbH. Since the audit occurred before May 31, 2023, the company acquired the Performance Standard V2 certification.
The ASI Performance Standard V2 certification addresses sustainability issues in the aluminium value chain, defining environmental, social, and governance principles and criteria. The certification considers key sustainability issues, such as biodiversity, Indigenous Peoples rights, and greenhouse gas emissions.

Fiona Solomon, Chief Executive Officer at ASI, said: We congratulate Ningbo Tuopu Group Co., Ltd. on achieving ASI Performance Standard Certification with Provisional status. Adopting sustainability is an ongoing journey that entails consistently assessing and enacting change. ASI Certification enables companies to appraise their manufacturing methods through the lens of an ESG standard and provides a path forward for progress on the ground."